The festival calendar of Rajasthan declares a number of fairs and festival all over India. Each corner of the State depicts the rich legacy of Royal India, which are represented in terms of enthusiastic events commenced every new month. The world-famous Pushkar Fair.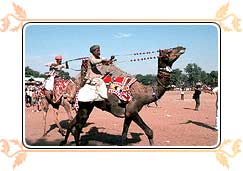 The 9-day
Pushkar fair
will be held in the beautiful Pushkar town, situated 146 km away from Jaipur, the Pink City of India. The town is nestled at the foothill and the shimmering flow of five rivers namely, Suprabha, Kanaka, Prachi, Nanda and Saraswati add to the beauty of the place. Apart from the scared water bodies, attractions also lies in Pushkar Lake. Every year on the full-moon day of Kartik Purnima, that falls sometime between October and November, devotees belief to take a holy dip in the lake and visit the divine Jagat Pita Shri Brahma Mandir.
Places To See In Pushkar
Pushkar fair attracts tourist from different parts of the world. Tourist, during the event find opportunity to get engage in the various cultural and sporting programmes. Local tribes jazz the aura with organizing traditional dances and songs and inviting visitors to participate on the live show in the beautiful backdrop of Pushkar Fort and the Pushkar Brahma temple. Besides, the interactive sessions, it also witness the world largest camel fair. Around 50, 000 camels are showcased every year for the purpose of race and exhibition. The camels are made attractive with embroidered cloth tailored in intricated mirror work. The environment of the fair buzz with the conversation of camel traders and its buyers
Other fun-filled activities on Pushkar fair are puppet shows, cattle fair, shopping and competitions of indifferent themes. These events are organized in open air near the number of shops that displays ethic jewelery, dresses and household items. The collections lures fashionistas and compel them buy some to take back home.
Traders from different part of India participate in the Pushkar fair and sell antique items, including beaded Necklaces of Nagaur, printed textiles of Ajmer, brassware of Jodhpur, blankets of Merta and colorful garments of Jaipur. Tattoo lovers can ink their body with antique designs, while physique conscious can rely on acrobatics. Fun-filled competitions like bridal contest, moustache exhibition, best breed competition, singing idols etc are additional punch on the fair.
In recent years, the tourism board handling Pushkar fair has added the attraction of Cricket match between the local Pushkar Club and foreign tourist. Beside this there is so much to see in this town like the Aaram bagh Pushkar, or enjoy a peaceful lake view of Pushkar palace.