Maha Shivaratri, or the Night of Shiva, is observed on the 14th day of the dark half of Margasirsa. Shivratri festival is a celebration of Lord Shiva's marriage to Parvati.
Dates for Maha Shivaratri
2013:-
March 10
2014:-
February 28
2015:-
February 17
Shivratri Puja:
There are many rituals that are performed by the devotees of Shiva. The ritual bath of Shivalinga, the rituals that are performed by the women after wearing the new clothes, and the customary bath to the Shivalinga. The Shivlingam is offered the special bath with milk, yoghurt, honey, sandalwood paste and rose water. After the bath the vermilion paste is applied on the linga and after it the Shivlinga is worshiped.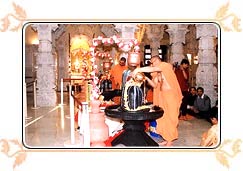 Significance of Mahashivratri: The Shivaratri festival is having the number of significance in the Hindu religion. According to the Hindu religion the Maha Shivratri fast falls on the 14th day of the dark night of the month of Phagun. The devotees of Shivratri performs every rituals with the great care and devotion and care. The devotees observes the Mahashivratri fast day and night and worships lord Shiva with with devotion and sincerity to solve the past sins of the devotees.
Booking Information/Reservation
The festival Mahashivratri is celebrated with the great devotion and it is celebrated on the 14th night of the Hindu month Phagun. The devotees observes fast during the day and night of Shivratri and also visit the temple of Shiva. Many of the people believes that the Shivratri is the wedding day of Lord Shiva and Parvati. Many of the legends believes that the Lord Shiva has performed the 'Tandava' which is considered to be the dance of creation, preservation and destruction.
Celebrations:
The celebrations of Maha Shivratri starts from dawn and it continues till all through night. The devotees observes the fast for the whole day and all through the night. The devotees also participates in the Maha Shivratri bhajan which is organized by the Shiva temples. The Shivratri is the one of the most awaited festival for the Hindu women. The married women as well as the unmarried girls performs pooja, with the faith.
Tradition of Drinking Thandai:
The drinking of Thandai is considered to be aesthetic and sacred. Thandai is the drink which is made up of the bhang (cannabis), almonds and milk. The drinking of Thandai is very much essential as it is said that it makes lord Shiva happy.
Om Namah Shivay:
All through the day the devotees keep the all day and night fast and chant the Panchakshara mantra Om Namah Shivay along with Maha Shivratri katha and also makes the offerings of prayers, flowers and fruits.
Shivratri Pooja:
The Shivratri Pooja is having the significant effect in Hindu mythology. The worshiping of lord Shiva on the day of Shivratri pleases the lord Shiva the most.