About Chhat Puja
Dedicated to Lord Surya(Sun God), Lord Agni(Fire God) and Lord Kartikeya(Muruga), Chath puja symbolizes truth, non-violence, compassion and forgiveness. As the holy word suggest and according to Hindu calendar, the festival falls on the sixth day of the Kartik(October to November).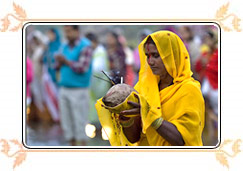 The four-day long Chhath festival features a number of rituals, performed at home and on the banks of the pious Ganga. Holy fresh water bodies are also considered as the place of Chhat puja. Pilgrims believe to offer prayer before the glorious sun down and early sun-rise. They compare the natural cycle with the process of birth and death of an individual.
Rituals In Chhat Puja
Devotees fast whole day, make preparation for visit the holy Ghat(bank) and in the evening they offer Chhat Sandhya Argh to the orange-red setting sun at the river bank. Flowers, fruits, dry coconut, bananas, sweets and sugarcane are categorized as 'Arghya' and 'Soop' and are offered by standing in the knee-deep water. Returning home, festive extends with singing devotional Chhath songs and offering prayer before Lord Agni. The rituals are performed in area lined up by four sugarcane sticks. Pilgrims, after performing each ritualistic steps, break their fast with having Prasad and Kheer.
Rituals further continues and early morning of the final festive day commences 'Arghya', a holy Arti by devotees to the rising Sun. They carry a 'puja thali' filled with sandalwood paste, vermillion, rice, fruits and sweets; cover the wholesome with a bright glitzy cloth and proceed towards the bank of river or seashore singing Chhath puja geet. Offering prayers follows with chanting mantra and hymns from the Rig Veda. They further break their fast and distribute the prasad to all waiting for it.
Chhat Festival In And Around India
Chhat Festival is greatly celebrated in some prominent Indian states like Bihar, Jharkhand, Orissa, Assam, Uttar Pradesh and Chhattisgarh. Recently, in the later half of 2008, the city administration in Chhattisgarh has presented a new lake to the residents for performing rituals for Chhat festival. The festival also lits up at some parts of West Bengal and places in foreign lands like Nepal, Maurities etc.
With Chhat Puja, an aged old belief is marching forward in the Indian society. It is said that, worshiping Lord Surya during the festival while enchanting Chhath puja song helps one to get rid of unusual human diseases and achieve a prosperous life ever after. Therefore the festival is also known as Suryashashthi. For tourists the spectacular view of the festival give them a chance to click lots of Chhath puja photos.