Deepawali is the festival of lights which symbolises victory of good over evils. Deepavali means row of lamps in Hindi and is one of the popular festivals of Hindus, which is celebrated in the month of Kartika (October-November) on the 15th day of dark fortnight, as per the Hindu calendar. This year, Deepawali is going to be celebrated on 26thth October.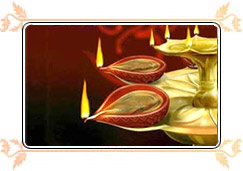 There are a number of legends behind the celebration of Deepawali. It is believed that on this day Lord Rama came to his home Ayodhya after an exile of fourteen years in junlge. It was a big celebrations as Lord Rama returned after killing Ravana, the symbol of evil, in a war. People of Ayodhya welcomed Lord Rama by lighting rows of earthen lamps, which gave this festival the name of Deepawali. It is believed that Lord Rama traveled from South India to Ayodhya and this is the main reason that Deepawali is celebrated one day in advance in Southern part of India.
Celebration of Deepawali
In various parts of India, people start preparation for Deepawali in advance. As the festival is celebrated after the end of the monsoon season, people paint and white wash their houses and decorate it with lights. Rangoli designs (floor painting) are created on the doorsteps of every household to welcome Goddess Laxmi and visitors. Rangoli is very famous in South Indian states like Andhra Pradesh and Karnataka where Lotus flower or Swastika is made of colours, rice and flower petals on the entrace of the house. On the day of Deepawali, houses are lit up with lights, candles and earthen lamps. People offer prayers to Lord Rama, his wife Sita and his brother Laxman.
Apart from this, people worship Goddess of wealth and prosperity, Laxmi with all rituals and customs. It is believed that on this day, Goddess Laxmi visits every house and brings prosperity in the lives of people. Laxmi Pujan is performed after the sunset.
As it is a festival of lights, people make merry by festive fireworks and lights. On the occasion of Deepawali, people distribute sweets and gifts among their neighbours, friends, relatives and give good wishes for their prosperity. Deepawali is also treated by Hindus as beginning of New Year.
Kali Puja in West Bengal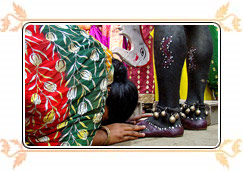 Deepawali is also celebrated as Kali Puja by the people of West Bengal with gusto and enthusiasm. The main difference here is that on this day Goddess Kali is the main deity for the people of West Bengal, whereas, in other parts of India Goddess is worshiped. Kali Puja is regarded as one of the major festival of West Bengal and people do not leave any stone unturned to celebrate this festival. By worshiping Goddess Kali, people seek protection against hardships and prosperity.
Deepawali as Harvest Festival
Deepawali is also celebrated as harvest festival. It signifies the harvest of crops and folks are happy with the good production of their crops. It is also treated as a thanks giving festival to Goddess Laxmi for blessing people with prosperity. It is very famous festival in rural India, particularly in West and North states of India as they express their gratitude to the God for receiving bounty.