About Bhaiya Dooj
A sacred Hindu scripture says, ' A forehead without Tilak is worthy of condemnation and they exist for name sake only'. Well, with hearing or reading this quoted line, one can estimate the importance of Bhai Dhooj or Bhai Duj for Hindus. Following the festival of Light,
Diwali
the liveliness continues with this festival, that defines the importance of sibling relationship in Indian culture. Hope the warm occasion bring best wishes and great gifts in our life.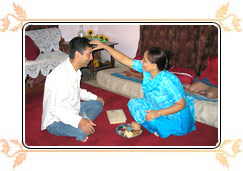 Bhai Dooj Stories - Ancient Legend
The age-old tradition of celebrating Bhaiya Dooj, outlines the power the mythological legend for the life and existence of Hindu Society. The rituals and custom performed on the very day, associate the legends of Yamaraj and Yamuna, Goddess Lakshmi and Bali, Lord Krishna and his sister Subhadra and Lord Mahavir (founder of Jainism) and Sudarshana. All the legend describes the sisterly concern for their brothers.
Bhai Duj Celebration
The cultural significance of Bhai Dooj, reflects the tradition of Hindu Society. It is celebrated in parts of India and each one of the region name the festival differently. But the common underlying theme is offering prayer for the long and healthy life of brother.
When Is Bhai Dooj
Bhai Dooj falls immediately after the 2nd day of Diwali. Therefore, the celebration can be performed on the same decorated platform. Rangolis of geometric design are drawn on the floor and shimmered with lighting candles and diyas. Many believe to perform the rituals of Bhai Dooj in the holy room (Puja Ghar) dedicated to praying God and Goddess.
On the most awaited day of Bhai Dooj, sisters make arrangement for smearing their brother's forehead with Bhai Dooj tikka. They arrange a puja thali, holding sandal wood paste, rice grains, Dubya(a green herb) and red vermillion(roli). Sisters offer their brothers sit on the new Asana and bless them with rice grains, Dubya and Teeka, following chanting the holy mantra of saving their dearest brothers from evil shadows. After performing Aarti before the Bhaiyas, they touch feet and complete the ritual. Interestingly, a brother need to give gift, if not big, at least a penny to his sister. This symbolizes a strong emotional touch between the two.
Bhai Dooj Gifts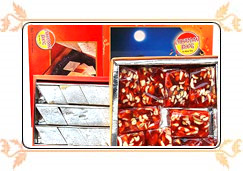 There are several colorful gifts available on the market, which can help one feel one's sister special. You can gift a Bhaidooj Puja Thali tailored with love and care. It contains aesthetically decorated items and chocolates, that will surely bring smile in her face.
One can also fascinate your dearest sister with a greeting card and a chocolate hamper. If you wish to pamper your small siblings, then, the best choice lies in selecting a cute teddy and boxes filled with sweets.
This year a number of shops are selling gift baskets clogged with items and packed with emotions. The stock are limited in the market, therefore, be the first one to make a best choice. And for those who are living at distance from their brothers and sisters, they can send gifts via online and can wish them with Bhai Dooj sms.