About Ramadan
Eid of Fitr, is one of the major festival in Muslim religion. The Ramzan holiday mostly falls between September and October, following the month of fasting for Muslims. It is note worthy, that date is determined as per the nature of Islamic Lunar Calendar and are based on the visibility of the 'Hilal'(Waxing crescent moon following a new moon). Therefore, prior prediction about the Eid al Fitr festival, at time gets altered.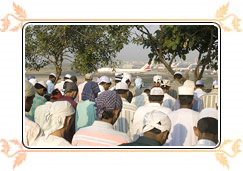 What Is The Month of Ramadan
According to ancient Eid ul Fitr traditions pilgrims believe that during the Almighty 'Allah' gave Prophet Muhammad the holy words in the form of Quran. With paying homage to each second of a day, they believe to pray and read the holy book and feel themselves close to Allah. The fast is kept during the daylight hours, until sundown. The families wake up early before the sun rise and have meal(Suhur) together for the whole day. Following this, they offer the Fajir prayer together. The fast is maintained not only by elderly groups, but also by kids and young children, who give up eating spicy foods and therefore follow a few days of fasting during Ramadan.
After the whole day, the evening time allows pilgrims to break their fast by drinking water and eating dates. They offer prayer(Maghrib) together and then relish at the delicious meal(Iftar).
Eid-ul-Fitr Celebration
Ramdan celebration symbolizes the end of the holy fasting month in the Islamic calendar. The festival continues for three days; of which its prime day is declared as holiday the various parts of the country and people celebrate the day with great zeal. Pilgrims wake up early in the morning, dress themselves in new clothes and proceed towards attending prayer ceremony at the divine Masjids. After which they wish each other Ramzan mubarak.
The pre-preparation for the festival starts a few weeks before and people make all best effort to make Id memorable. On the eve of Eid, children, women and young girls decorate their hand with bright heena and stay late night with preparing 'sweet shawayin' and sumptuous foods. The excitement goes beyond imagination with a glimpse of the awesome new moon. They exchange gift items among their kith and kins and welcomes guest with great heart. The joyful activities in Eid offers a brotherly feelings in the society and also suggest to wipe away all bad feelings(if any) existing among the fellow mates and start a new fresh relation. Individuals who are kind at heart believe to give something in charity. They donate rice, barely, dates etc to help needy get some food.
Happy Ramzan ! Ramzan Ul Mubarak