About Durga Puja
Duga Puja is one of the famous holy festivals of India. Dedicated to Goddess Durga or Durga Maa, this festival is celebrated in almost all parts of India but it is a famous attraction in West Bengal, Orissa, Assam, Tripura, Jharkhand and Bihar. Durga Puja is also very famous in Nepal and Bangladesh. Apart from Goddess Durga, the festival also includes worship of Lord Shiva, Ganesha, Goddess Lakshmi and Saraswati.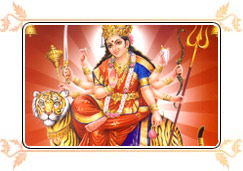 The word Ma Durga in Sanskrit means the one who is difficult to reach. Durga is worshiped as a symbol of power and for her terrifying and gracious aspects. There are a number of legends about Durga mata, which shows her power as destroyer of demons and establisher of peace. Durga is also known by various other names like Parvati, Kali and Ambika.
Durga Puja Celebrations
Durga Puja is celebrated all over India with various rituals and customs due to vast difference in region and culture varying from state to state. It is generally celebrated for six days starting from Panchami and ending on Dashmi in Ashwin month, as per the Hindu calendar. In West Bengal, Durga Puja is also called by the name of Akalbodhan (tracing back to history of Gurga puja). Last day of Durga Puja is also known by the name of Vijaya Dashmi or Dussehra.
Singing Durga Bhajans
Every day of Durga Puja festival has different method of worshiping by offering various sweets, fruits, cloths and other material. People sing various 'Bhajans' (devotional songs) and offer prayers for the wellbeing of their families and society. Some of the favourite cuisines or special Durga puja recipes are prepared during this festival in Bengal include Alu Dom, Bhaat, Fulkopir Vada, Puri, Moong Dal and Boondie.
Durga Puja Decoration
During Durga Puja, people decorate their houses with lights and worship Goddess Durga for six days. People visit various Durga Puja Pandals (where they attend Durga aarti in evening) with their friends, parents and relatives. During this carnival people from all religions keeping aside religion, region, caste and creed, participate in various activities and enjoy themselves. It is also a shopping time for people and markets are flooded with customers.
On the last day of Durga Puja, idols of Goddess are carried in a procession to the sea shore or the river banks for immersion. A large number of devotees take part in this procession on the last day of the festival and take blessings from Goddess for their wellness and peace in the society. The festival ends with the hope and wait for the next year, when Durga Puja will be celebrated again with much pomp and show.
Durga Puja In West Bengal
Durga Puja is very famous festival of West Bengal and is celebrated for five days. During this festival, thousands of colourful 'Pandals' temporary structures are set up and idol of Goddess Durga is set up for worship for around six days. Special Durga arti and Durga mantra is organized in these pandals where devotees sing Durga puja songs and take the prasad of special vegetarian Durga puja food.
Artisans in various parts of West Bengal start preparing idols of Goddess Durga months in advance as there is a huge demand of idols during this festival from all over India. Apart from localites, a large number of visitors from all over India and abroad visit various parts of West Bengal during this festival.
Durga Puja is also linked with the famous Navratri festival, which is celebrated for nine days and on the tenth day Dussehra is celebrated. Also get to click lots of Durga puja photos during the festival.