When Is Ganesh Chaturthi
According to Hindu calendar, Ganesh Chaturthi festival ( Birthday of Lord Ganesha) falls in the month of Bhaadrapada, that starts on the fourth day of the waxing moon period(Shukla Chaturthi). It is dedicated to Lord Ganesha, the elder son of Lord Shiva and Goddess Parvati.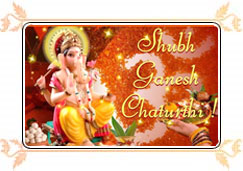 About Ganesh Chaturthi Story - Ganesh Chaturthi Katha
Devotees for the day of Ganesh puja, make prior preparation like decorating idol of Lord Ganesha , arranging pandals (make-shift shades) for the festival and shopping items to be offered. The important event calls for Ganesh chaturthi fasting(Vrat) by the devotees, who believes the task is a way to receive blessings of the Lord. Home makers prepare sweets and laddoo and offer the Lord of wisdom, health and wealth. Many people visit the temple and spends hours in the holy aura.
Ganesh Chaturthi Celebration
Eye-catching procession is carried out in different corners of India. Many people decorate the chariot so as to place the huge idol of Ganesha. The town jazz with the song 'Ganpati Bapa Moriya, Agle Baras Tu Jaldi Aa'. People with festive mood play with colors and dances with the rhythm of drum-beats. The market area glitters with holding the many decorated shops selling attractive items, balloons and crackers. The food-stalls offers lip- smacking special Ganesh chaturthi sweet dishes, the aroma of which attracts the individual at far end from the shop. The procession continues until the immersion of idol in a holy river or pond.
Ganesh Chaturthi In Mumbai - Ganesh Chaturthi Puja Vidhi
Ganesh Chaturthi is best celebrated in Mumbai, the famous metro-city in India. A visit during the time offers a number of programmes addressing Djs, fire dancers etc. The street lits up with processions starting from the Mahalaxmi Temple, Compound in Breach Candy, Central Mumbai and ends with Ganesh Arti at the seafront of Chowpatty. Competition catering to the display of best Ganesha Statue, singing and dancing idols are held in the local communities.
The festival of Ganesh Chaturthi helps families, friends and strangers come closer. The fun-filled event tie an emotional bond among each other from the core of the heart. These days people opt for greeting cards and gifts depicting the images of the Lord. Internet surfers also make the moment memorable with sending e-cards and special Ganesh Chaturthi wishes.
Happy Ganesh Chaturthi!