About Guru Nanak Jayanti
Gurpurab is the most sacred festival of Sikhs, which commemorates the birth anniversary of the founder of Sikh religion, Guru Nanak Dev. It is also known by the name of Guru Nanak Jayanti and Guru Purab. This festival is celebrated generally in the month of November every year but the day varies according to the lunar calendar.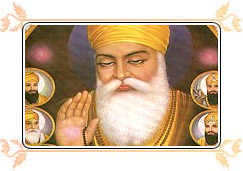 When And Where Was Guru Nanak Born?
Guru Nanak was born on 15 April 1469 at Rai-Bhoi-di Talwandi in Shekhupura district, which is presently located in Pakistan. He was a great saint and preacher who always preached harmony and liberal social practices. According to Hindu calendar this day falls on the full moon day of Kartik month. Sikhs from various parts of the world visit the Gurudwara in Shekhupura, Pakistan, which is now known by the name of Nankana Sahib. This Gurudwara is known by the name of Janam Asthan and represent the home Guru Nanak's father (Baba Kalu) and mother (Mata Tripta).
Preachings of Guru Nanak can be found in the holy book of Sikhs, Guru Granth Sabib. He showed interest in divinity at the tender age of five years and preached oneness of God throughout his life wherever he traveled. He was an extraordinary child with rational thinking from his early days. After Guru Nanak Dev, Sikhism was gradually developed by nine other Gurus who succeeded him.
Celebration of Nanak Parkash
On Guru Nanak's birthday day, Gurudwara in Nankana Sahib is the main attraction and a grand fair is celebrated there attracting lakhs of Sikhs from all over the globe. Apart from this, Guru Granth Sahib, the holy book of Sikhs, is recited without stop in all Gurudwaras. Lamps are lighted in Gurudwaras and houses, free langars (meals) are organised and prasad (holly food) is distributed among the devotees and visitors on the ocassion of birthday of Guru Nanak. A number of holly processions are taken out every where, in which a large number of people take active participation.
There is a ritual of carrying out Prabhat Pheri (morning procession) three weeks before Guru Nanak Dev Ji birthday in the early morning. It is a generally a three days festival. Akhand Path (reciting of the holy book) starts in Gurudwaras two days before the festival. Processions carrying Guru Granth Sahib in a palanquin are carried out one day before the birthday of Guru Nanak. A large number of people participate in these processions all over the places by chanting hymens and singing prayers. On the main day of the festival celebrations start early in the morning by singing hymns from various Sikh scriptures, which is followed by recitation of poems in Guru's praise.
Golden Temple in Amritsar which is located in Punjab, one of the states in North India, is a major attraction as it is considered one of the famous holy places of Sikhs on the planet. Those people who live at such places where there is no Gurudwara in the vicinity, arrange Kirtans, Ardas, Paths and Langars at their homes. So wishing you all a Happy Gurupurab.