About Festivals of Ladakh
Ladakh is a region which is sandwiched between Tibetan Plateau and Western Himalayan range in the Northernmost state of Jammu and Kashmir in India. It is the highest, inaccessible region of India for most part of the year. Culture of Ladakh is highly influenced by the Tibetan traditions as it shares its boundary with Tibetan plateau.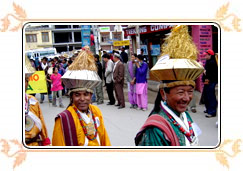 Ladakh Festival is organised by the state of Jammu and Kashmir every year in the month of September for a period of first 15 days. This festival is mainly organised to promote the rich culture and heritage of Ladakh region and to increase the tourism in the area. During Ladakh festival a number of cultural and sports events are organised which focus on the traditions and living style of the people of Ladakh region.
Celebrating Festivals In Ladakh
During festivals in September one can see the spectacular performances of the localites in colourful costumes. A number of singing and dancing items are presented by the artists which leave visitors spellbound. Traditional dances and musical instruments showcasing the heritage and history of folks of the region cherish visitors from all over the globe. Buddhist monks called Lamas can also be seen participating in traditional dances called Chhams. Other than this participants from several villagers also present mask dance in the form of a Deer or Lion.
Apart from cultural performances, there are a number of sports events which are conducting for the entertainment of the viewers like Archery. Archery is a famous game in the region and is practiced by the people in most of the villages in Ladakh region. A number of teams participate in Archery competition during this festival.
Ladakh Festival - Main Atraction
Other than all these activities one of the main attractions of Ladakh festivals is mock marriage ceremonies done in Buddhist customs and traditions. A number of Buddhist monasteries participate in celebrating this festival which is organised to commemorate the evolution of Mahayana Buddhism in Tibet.
Ladakh Festival Cup
Polo competition known as 'Ladakh Festival Cup' is also organised during this Ladakh festival in Leh, where a number of polo teams from various regions participate. Inaugural function of Ladakh festival is spectacular and processions pass through Leh market depicting and showcasing the various aspects of Buddhism and local culture. Folks can be seen making merry and enjoying various activities in their traditional Ladakhi attires.