Holi Celebration: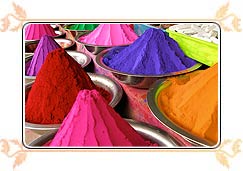 There are many such rituals of the Holi that is performed every year with the full enthusiasm. The day before Holi people start collecting woods for lighting the bonfire which is called as Holika which ensures the celebration of the festival Holi. On the next day people play with colors and the day is marked with the celebration of Holi. There is no tradition of holding any pooja and on this day the people play with the lots of enjoyment and enthusiasm. The celebration of Holi in
Mathura
and Vrindavan cannot be compared to any other city as it is celebrated with the lots of excitement and fun. During the celebrations people used to drink Thandai which is the most important part of the celebration of the Hindu Holi festival.
Holi Festival Attractions:
Booking Information/Reservation
The special attractions of the Holi is the colors, the bonfires, the pichkaris. The Holi recipes that are specially made during the festival are Gujiyas, Mathris and the Papris. At some places the women folks also makes papads and potato chips. There is also a tradition of consuming the Bhang which is intoxicating in nature. It is the most energetic festival thats celebrated with the immense enthusiasm and excitement.
History of Holi Festival:
Holi is one of the major festival that is celebrated with the full enthusiasm on the full moon day of the Phagun which falls in the month of Marchas per the Georgian Calendar. The festival is celebrated in many ways in different states. The country looks colorful during the festival. The markets are flooded with the hues of gulal and abeer. People buy special Holi gifts for their dear ones. Infact these days sending very special Holi sms and holi quotes to your friends who are far away has become a tradition of modern times as they are a good way to convey their holi wishes to their near ones.
Celebrations:
The Holi celebration takes place with the lots of joy and enthusiasm in the country. At the time of the festival the enthusiasm and the excitement of the people reaches to the peak. There are different styles of playing Holi like drowning the colored water of Holi to the other people and to play like animal. To enhance the festive mood people also follows the tradition of Bhang and that makes the people total wild as people dance to the rhythm of dholak and sing the traditional holi songs at the loudest pitch. Children also enjoy the festival by throwing the water filled balloon at the passersby. To conclude we can say that the entire scenario of the Holi festival picture is simply mind blowing.