Meaning of Vasanth Panchmi:
The Vasant panchmi is also spell as Basant Panchmi which reflects the arrival of spring season. The day is celebrated as the Saraswati Pooja where goddess Saraswati is worshiped. The day is celebrated on the fifth day of the Magh month of 'Shukla Paksh', therefore the Vasanta Panchami is also called as the 'Shree Panchami' or 'Saraswati Panchami'.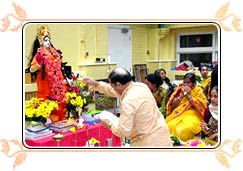 Maa Saraswati- Goddess of Learning:
Goddess Saraswati is worshiped on the day of Vasant Panchami festival. Maa Saraswati reflects the symbol of vedic knowledge and wisdom. Goddess Saraswati is the goddess of great learning, wealth of humanity and wealth of knowledge. According to the Hindu mythology the goddess is sitting with the white attire, white flower and white pearl and sitting on the white lotus which is floating on the water.
Rituals:
The mythological history of the goddess Saraswati is associated with the holy rituals that are performed on the banks of river Saraswati. She is also worshiped as the goddess of speech which is also attributed to the formation of words.
Vasant Panchmi Celebrations:
Booking Information/Reservation
On the day of the Basant Panchami festival there is the environment of great festivity and the festival also marks the end of the winters. On this day the yellow color is of great significance, people also offers the yellow flowers in worship and also puts yellow tilak on everyone's forehead. At everyone's home the Kesar Halwa is prepared on the day which is also in yellow color. The devotees also visits temples and offers the prayers to the various gods.
The Vasant Panchmi is the festival that is celebrated in North India and is also the festival of nature and there is no story that is associated as it is in the case of the mostly Hindu festivals. On the day of festival goddess Saraswati is generally worshiped by the teachers and students in the northern and eastern part of the country.
Prasadam:
The 'Prasadam' of the goddess at the time of the Basant Panchami differs from place to place and community to community. Some of the devotees offers 'Ber', a fruit that is found in Northern and Eastern India or 'Sangari' is the type of bean that is grown on the roots of the radish plant. So capture he beauty of the festival in camera as Vasant panchami images.