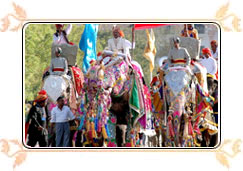 The summer festival is celebrated in the month of Aashadh (June). The rocks, the climate and the serene lakes of Mount Abu makes the place as the ideal location for celebration of the festival. Summer festival is enjoyed for three days with the ultimate folk and classical music that depicts the tradition and culture of Rajasthan. Summer festival is started by singing ballad, which is then again followed by gair, ghoomar and daph folk dance that specially attracts the spectators.
Special Delights of festival:
There are many such sports events that takes place during the Summer festival like boat race in Nakki Lake which adds color to the festival. The musical extravaganza during the summer festival Sham-e-Qawwali is the much awaited event for the audiences. The grand finale of the summer festival is showcased by the dazzling fireworks that adds the fantasy to the visitors. Mount Abu is known to be the only hill station in Rajasthan and is the coolest place of the state. The place is having the highest peak like Guru Shikhar Peak and Aravallis ranges. For the Britishers it is the best summer retreat of the state. But during the summer the place comes alive during the month of June.
Key features of festival:
The glimpse of classical and folk performances showcases the talent and tradition of the tribal life of Rajasthan. The most merry making event in the festival are the sports events and the competitions is the boat race on the Nakki Lake. According to mythology, the lake formation has took place by digging their finger nails- 'nakh' and hence it has been named as nakki.
Places to see in and around Mount Abu during the Summer Festival
There are many such special attractions sites which is located in and around the small city. There is the famous Dilwara temples, ashrams of saints are some of the most popular Hindu temples which is located inside the boundaries. The major delight of the place is the Nakki Lake, the verdant landscape will make the place worth traveling.
Getting there:
By Air:
Udaipur is the nearest airport from Mount Abu, 185 kilometers. Tourists can easily get the transport from airport to reach Mount Abu. There are many domestic airlines that is schedule to flight which connects the major cities of the country.
By Road:
Mount Abu is well connected by the roadways at the proximity of highway number 8 and 14. The small roadway connects the city to the national highway number 8 and also connects to the major cities of the country like Jodhpur and Delhi.
By Train:
There is the good network of railways that connects the number of trains and also the long distance trains are also operated from here.