When is Pongal n 2012 ?
Annually Pongal is celebrated on at the start of Tamil month, Thai, between January 14 to January 17. The main festival celebrations falls on 15 January.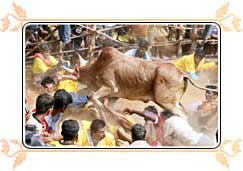 In south India especially in the states of Tamil Nadu and Karnataka, Pongal is celebrated at the end of harvest season between 14- 17 January. It is a continuous four day festival, celebrated with great enthusiasm among the people. The main day for the Pongal celebrations is mainly on 15 January and the auspicious time to celebrate this festival is from 7 am to 9 pm. It is the same time when farmers bring home their newly harvested crops, and feed their cattle with a special rice dish called Pongal.
The day of Pongal is considered as auspicious among the Hindus who mark this day as the beginning of sun towards Makarm Rashi (Capricorn).
How is Pongal Celebrated?
Booking Information/Reservation
Days for Pongal Celebrations :- Pongal is one of the major religious festival in India. It is also celebrated as Tamil Nadu's New Year Day. The first day of Pongal is known as Bhogi. On this day most of the people purchase new household items for its house , this day marks the starting of new cycle. The second day is known as Perum or Surya Pongal and is the most essential day of the Pongal celebrations. On this day people pay homage to Sun God Surya through prayers, bhajans and bhakti sangeet. People clean and decorate their houses with Rangoli and garlands.
The third day is Mattu Pongalwhich involves worshiping of cattle's, as people in India firmly beleive that cattle helps give a good harvest. The fourth Day is known as Kanum Pongal. On this day people visit their friends and relatives and exchange gifts.
Others Religious Names For Pongal
- Makar Sankranti
- Lohri
- Bihu
- Hadaga
- Poki