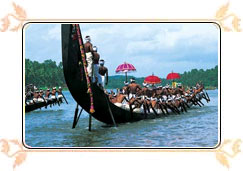 The Nehru Trophy Boat race is one of the competitive and most famous boat race of Kerala. Every year this boat race is conducted on second Saturday of August month , in memory of late pandit Jawarharlal Nehru. In 1952, the first boat race was conducted in honor of Panditji when he visited Alappuzha. After an exciting sailing experience in a snake boat, he had donated a silver trophy which is a replica of the snake boat placed on the wooden abacus to the winner of the trophy. The venue for this event is Punnamada lake near Alappuzha. On the day of the event , this place is filled with thousands of national and international spectators.
Speciality of Boat Race:
Chundan Vallams or snake boats are the major attraction of the Nehru trophy boat race. Chundan Vallams are made of forest wood known as 'Aanjili thadi'. These are 110-120 feet long canoes with a raised prow, moves like a snake . The movement of these snake boats create an spectacular view. These boats are the biggest water vessels used for sports. Beside Chundanvallam boats, there are some other types of boats such as Churulan Vallam, Iruttukuthy Vallam, Odi Vallam, Veppu Vallam , Vadakkanody Vallam and Kochu Vallam which also participates in various other races .
This race is a matter of pride for the villagers in Kuttanad region and winning the trophy by the village boat provide the villagers a moment to cherish. This boat race is the biggest boat race in India. It covers a courser of 1370m in length which is divided into various tracks . All the oarsmen of various boats splash their oars in unison with the rhythmic chants and music of drums.
In ancient times, this boat race was the main reason behind the communal harmony in Kuttand. Every day during the practice session mass feast was organized where people from different community eats together. This kind of mass feast is still in practice.
Other Attractions:
Some other major tourist attractions of Alappuzha - Alappuzha beaches , Pathira manal to view rare migratory birds, Mannarasala Sree Nagaraja temple , dedicated to Nagarajah , the serpent God, Ambalappuzha Sree Krishna temple,famous for the delicious sweet milk porridge known as Palpayasam which is a daily offering to the deity. And one of the oldest church of kerala , the Champakulum church. Last but not the least , houseboats of Alappuzha.