| | |
| --- | --- |
| Occasion: | International Mango Festival |
| Location: | Northern India (Delhi, Pinjore and Chandigarh) |
| Festival Time: | June- July |
| Famous Attraction: | Approximately 500 variety of mangoes are on display along with the various cultural programs. |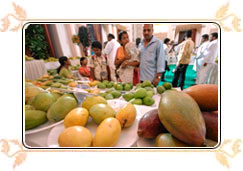 Mango 'the delight'
To find mangoes at its best and to celebrate the Mango fever, the best occasion is Mango festival. There's no doubt that Mango is known as the 'king of fruits' which is proved by the Mango festival.
In Delhi, the Mango festival is organized in Talkatora Stadium generally in the month of July, when the mangoes are found at their best. It is the most awaited festival of the capital, which appeals to both intellects and common man. Delhi International Mango Festival beckons both mango lovers as well as mango growers from various corners of the country.
Special celebrations during Mango festival:
This annual fiesta of mangoes lasts for a period of two days at the venue and for the entire year, in the minds of its visitors. Mangoes from different states like Bihar, Uttar Pradesh, Himachal Pradesh, Punjab and Haryana can be seen in the International Mango Festival. Nearly 500 varieties of delicious mangoes such as Alphonso, Mallika, Amrapali, Himsagar, Malda, Balia, Chorasya, Dhaman, Dhoon, Fazia, Gelchia, Nigarin Kheria, Ruchika and Shamasi are available in this festival.
International Mango Festival of Delhi provides a golden opportunity to visitors to taste various species of this wonderful fruit under one single roof and that to free of cost. This festival also exhibits various delicacies made up of mangoes. Apart from tasting various kinds of mangoes in the festival, visitors can also participate in several competitions held in the festival. Mango folk songs, mango eating competitions, and children shows are main attractions of this festival.
Special delights in Mango festival
Apart from Delhi, Mango festival is also organized in Chandigrah in a grand way. From these festivals visitors can easily get high quality of mangoes without any problem. The festival cum fair also gives the opportunity for the food industry to give away the processed food from Mango like Jams, Pickles, and canned fruit. This fair draws huge crowd every year.