Dates for Bikaner Camel Festival:-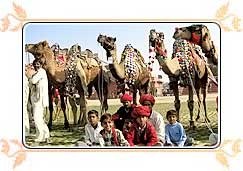 2012 :- 8- 9 January
2013 :- 26-27 January
2014:-15- 16 January
2015:- 4-5 January
Venue of Bikaner Camel Festival:-
Bikaner, Rajasthan (Junagarh Fort)
Bikaner Camel Festival is organized in the historical city of Bikaner in the month of January annually by the Department of Tourism, Art & Culture, Rajasthan. The venue of the festival is the famous Junagarh Fort built by Raja Rai Singhji, 6th ruler of Bikaner (1571 to 1612 AD). This festival is mainly celebrated to honor and emphasize on the significance of 'Ship of the Desert' - camel.
Booking Information/Reservation
The festival continues for two days. It starts with the fascinating procession of the decorated camels in the magnificent background of the Junagarh Fort . It is a colorful Parade that fascinates the tourists with so much excitement and grace. The procession proceeds towards open Polo Ground followed by other cultural events and activitues such as camel races, fur cutting design, camel milking, camel acrobatics, best breed competition and so on.
These colorful processions and activities are accompanied by traditional music, songs and folk dances performed by the local people from Rajasthan. Apart from that the vibrant fire dances and the sparkling fire works add charm to the spirited desert city.