Baisakhi/Vaisakhi in 2012:-
April 13 or April 14 2012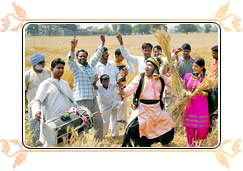 Baisakhi is one of the major festival for the Sikhs and is celebrated with the great enthusiasm and excitement in the state of Punjab and also throughout the world. The large farming community of Punjab celebrates the festival after the harvest with the rabi crops and enjoy it with the exciting Bhangra and Gidda dance. The day holds special significance among the Sikhs as the Panth Khalsa was also laid on the same day.
Date of Baisakhi
Also referred to as 'Vaisakhi', the festival falls on the first day of Vaisakh month (April- May). According to the English calendar, the date falls on April 13th and April 14th once in 36 years. The auspicious date of Baisakhi is celebrated in all over the country with different names like 'Rongali Bihu' in Assam, 'Naba Barsha' in Bengal, Puthandu in Tamil Nadu, 'Pooram Vishu' in Kerala.
Celebrations in Baisakhi
Booking Information/Reservation
The people of Punjab, celebrates the festival with great excitement and enthusiasm. The festival is celebrated in almost every Gurudwara. People wake up early in the morning takes bath, in the holy water to mark the auspicious occasion. After getting ready the people can go to Gurudwara and special prayer which is organized on that day. On that day of Baisakhi, the people receives the specially prepared Kara prasad which is then followed by guru ka langar or the community lunch.
Customs and Traditions of Baisakhi
The festival is known to be the most joyous and the most enthusiastic festival of the Punjab state. People enjoy the festival with lots of charm and excitement. The festival is celebrated as the birth of Guru Govind Singh- the tenth Sikh guru and is also the foundation day of the Khalsa Panth. The harvest festival of Baisakhi is celebrated in the open field with the energetic Bhangra and Gidda dance.
When is Baisakhi?
The auspicious occasion of Baisakhi is celebrated on April 13th 2010. The festival is celebrated on the first day of Vaisakh month which is also popularly known as the Vaisakhi. In the english calendar the festival normally falls on April 13th every year and April 14th once after every 36 years.
Recipes during Baisakhi:
The people of Punjab, enjoy the festival with the great delight and with the joyful cuisines during the festival Baisakhi. There are many such recipes that are specially prepared during the festival and they are as under:
Non Veg Recipes:
Veg Recipes:
- Achari Mutton
- Tandoori Chicken
- Saag Meat

- Coconut laddoo
- Sarson ka Saag
- Pindi Chana
- Biryani