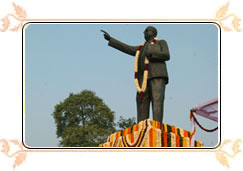 Birth and lifestyle of Ambedkar
The great legend and architecture of the Indian constitution Dr. B.R. Ambedkar was born on April 14th 1891 at Mhow in Madhya Pradesh. Referred to as the 'God of Dalits', Bhimarao Ambedkar sacrificed his whole life in the upliftment of untouchables in the society.
He sacrificed his whole life in the development of the lower class people of our society. There are many such Indians who thinks him to be the great social reformer of our society. He also played significant role in freedom struggle of India.
He was known to be the first 'untouchable' who received college educated from India. Later on he went abroad to pursue higher education in law, after which he was also with multiple doctorates in the study like law, economics and political science. After returning back to home as a popular scholar, he started publishing journals for the political rights and social freedom to the untouchables of India.
Great Social Reformer
Dr. Ambedkar spent his whole life in fighting against untouchability and caste system. Dr. B.R. Ambedkar was then made as the chairman of the Drafting Committee which is constituted by the Constituent Assembly. He was also the first law minister of India and was honored with Bharat Ratna, India's highest civilian award in 1990.
Events on Ambedkar Jayanti
The day of 14th April is therefore celebrated as the Ambedkar Jayanti, which is a Public Holiday. There are many Dalit organizations that carry out huge procession on this day in the memory of Dr. Ambedkar. There are many such parts in the country which also organizes the Dalit Melas, highlighting cultural programs and rally. Apart from that meetings, prayers and speeches are also organized on large scale to celebrate this day in the rememberence of great soul.