Shravasti - The city where the Buddha spent his last twenty years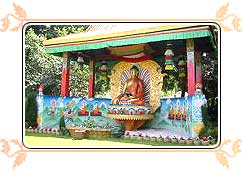 Modern day - Shravasti or Saheth Maheth, about 17 kilometers from Balrumpur) was the capital of Kosala, was said to have derived its name from the fact that everything was available there (sabbam atthi). It was indeed one of the wealthiest and most vibrant cities in the Middle Land. The Buddha visited Savatthi several times before finally making it his headquarters in the twentieth year of his enlightenment. From then on, he spent every rains retreat except his last in the environs of the city. The Buddha had probably decided to limit his wanderings at this time due to advancing age (he was fifty-six) and he no doubt chose Savatthi as his base because of the generous support given to him by the city's wealthiest merchants.
In is here Sravasti, that one of the most famous Buddhist site, Prince Jeta's grove at Anatthapindika's Park is located. Many famous suttas were delivered here. Amongst them were the Mangala Sutta, the Metta Sutta etc. It was also in this city that the Sravasti Buddha converted the notorious robber Angulimala.
History of Shravasti
While in
Rajgir
the wealthy businessman Anathapindika first met the Buddha and invited him to come to Savatthi. The Buddha said he would be happy to come but asked that suitable accommodation be provided. When Anathapindika returned to Savatthi he purchased a park near the town and built a large monastery on in. Called Jetavana, this park became the Buddha's favourite resort and he spent every rainy season of the last 20 years of his life except one there.
Shravasti Tourism - Visit The Famous Attractions of Shravasti Tours
Shravasti Tourist Attractions
Today the ruins of Jetavana's many monasteries are set in attractive and peaceful gardens. The Buddha delivered more discourses here than in any other place so if you wish to read some while you are you have plenty to choose from. Recommended ones are the Kakacupama Sutta, the Vimamsaka Sutta and or the Angulimala Sutta, all of them from The Middle Length Discourses. There are plenty of Buddhist temples near the ruins that offer accommodation. Perhaps the best is the Sri Lankan temple right next to the main gate. Don't miss the paintings in the main shrine. For other info you can check out the Shravasti map.