About Sanchi And Great Sanchi Stupa
Located in the state of Madhya Pradesh, "The Stupa At Sanchi" is a famous ancient Buddhist monument. The Stupa or Sanchi temple is a wonderful testament to the artistic prowess of Buddhist monks. Emperor Asoka (273-236 B.C.)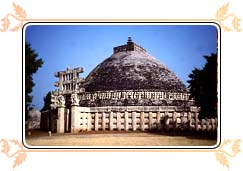 built stupas in Buddha's honour at many places in India. The stupas at Sanchi are the most magnificent structures of ancient India. Sanchi Stupas are large hemispherical domes, containing a central chamber, in which the relics of the Buddha were placed. The stupas in Sanchi traced the development of the Buddhist architecture and sculpture at the same location beginning from the 3rd century B.C. to the 12th century A.D.
Sanchi Stupa Architecture
It was accepted that the structure at Sanchi are the most organized construction which went into the engineering of Buddhist monuments at Sanchi. The carvings here are done with the precision of Jewelers. Despite the damage and restoration work done the great Stupa of Sanchi is the most evocative and attractive Buddhist site in India. The fact Sanchi Stupa is primarily a place of Stupas and pillars but the gorgeous gateways add grace to the place. These gateways are beautifully carved and carry scenes from the life of Buddha or Ashoka. The images carved on the pillars and the stupas tell moving story of the incidents form the life of Buddha.
Sanchi Stupas - Nearby Attractions
The Four Gate Ways
The Four gateways constructed in 35 BC are the best from of Buddhist expression one can find any where in the world. Gateways or Torans as they are called are covered with explicit carving which depict scenes from the life Buddha and Jatakas, the stories relating to Buddha and his earlier births.


The Ashoka Pillar
The Ashoka pillars is one many pillars which are scattered in the area some of these are in broken and some in shape. The crown is the famous four lions which stand back to back. This figure was adopted as the national Emblem of India. The Ashoka pillars are an excellent example of he Greco-Buddhist style and is known for the aesthetic proportions and the exquisite structural balance.


Stupas
Sanchi has been famous for the Stupas which were built on the top of a hill. The purpose of these stupas was mostly religious. The most likely use of the stupas has been said to keep the relics. Some of these stupas have been found containing relics of disciples of Buddha. The designs and the carvings on the walls and gates of these stupas spell a heavenly grace and are very tastefully done.


The Museum
The archaeological survey of India maintains a museum which house many items which were discovered during the excavation of Sanchi area. Most prized possession of the museum is the lion crown from Ashoka pillar. The museum has a sizable collection of utensils and other items used by the monks who lived here.