About Rumtek Monastry
The Rumtek Monastery or the Dharma Chakra Center is one of the most important seats of the Kagyu lineage outside Tibet. In the early nineteen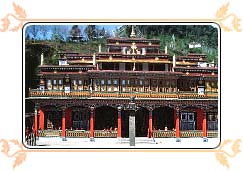 sixties, His Holiness the Sixteenth Gyalwang Karmapa founded this seat near the three hundred year old Kagyu monastery built in the sixteenth century by the Fourth King of Sikkim under the guidance of the ninth Karmapa. The new Rumtek monastery was built about two kilometers away from this old monastery and is one of the most famous
Sikkim monastery
.
Dharma Chakra Center includes a beautifully structured main shrine temple and monastery with monks' quarters, where the Karmapa resides and where the most important relics are enshrined; a three-year retreat center; a Shedra, or monastic college, where the relics of the Sixteenth Karmapa are enshrined; a nunnery; stupas; a protector's shrine; institutions for the lay community; and other establishments.
Rumtek Monastry Festival
The Rumtek monastery holds annual events for the public. Two of the most festive and important events are held each summer and winter. In the fourth lunar month of the Tsurphu Tibetan calendar either the Guru Rinpoche or the Vajrakilaya Drupchen (great sadhana practice retreat) take place.
Rumtek Monastry Information
The Rumtek Monastery is located in eastern Sikkim, 24 kilometers away from Gangtok, the capital of the Sikkim, India. The best season to visit, in terms of weather, is March to late May, or from October to mid-December. The following languages are spoken in the area: Sikkimese, Pahari (the local Nepalese dialect), Hindi, Tibetan and English.