About Rajgir
Rajgir or Rajagriha, which means 'house of the king', was the ancient capital city of the Magadha kings until the 5th century BC when Ajatsatru moved the capital to Pataliputra. Forty-six km from Bodhgaya, the town is sacred to the memory of the founders of both Buddhism and Jainism and houses historical remains like the cyclopean wall and marks engraved in rocks.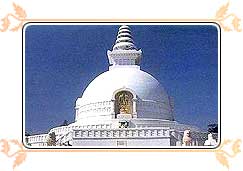 Rajgir is an important
Buddhist pilgrimage
site since the Buddha spent 12 years here, and the first Buddhist council after the Buddha was hosted here at the Saptaparni caves. Lord Buddha often went into retreat at the Jivkamaravana monastery in a beautiful orchard. One of his most devoted and prosperous devotees, surgeon Jivaka also lived here. The rich merchant community here soon became the Buddha's followers and built many structures of typical Buddhist architecture.
Rajgir In Bihar - Buddhist Retreat Site
Lord Buddha converted the Mauryan king Bimbisara, one of his most celebrated followers, to Buddhism at the Griddhakuta hill, where he delivered many of his sermons as well. The Japanese have built a Stupa on top of the Ratnagiri hill, linked by a rope way. It was here that the teachings of Buddha were penned down for the first time. Rajgir is also an important place of pilgrimage for the Hindus and Jains. Other places to be visited are Bimbisara ka jail, Jarasandha ka akhara, Venuvana, Karand tank, Maniyar math, Swamabhandar cave, Pippala cave, Viswa Shanti Stupa, the famous hot water springs and ruins of an old fort.
Location And History of Bihar Rajgir
The Buddha lived in the sixth century BC Mahavir was born in 567 BC and the traveller in Bihar will encounter them both constantly. Rajgir is 10 kms. south of Nalanda and sacred to the memory of the founder of both Buddhism and Jainism Lord Buddha spent many months of retreat during the rainy season here, and use to meditate and preach on Groddhkuta, the "Hill of the Vultures". Lord Mahavir spent 14 years of his life at Rajgir and Nalanda.
It was in Rajgriha that Lord Buddha delivered some of his famous sermons and converted king Bimbisara of the Magadh Kingdom and countless others to his creed. Once a great city, Rajgir is just a village today, but vestives of a legendary and historical past remain, like the cyclopean wall that encircles the town and the marks engraved in rock that local folklore ascribes to Lord Krishna's chariot. This legend, like many others, associates Rajgir to that distant time when the stirring events recorded in the epic Mahabharat were being inacted.