About Ki Monastery
Himachal Pradesh is a state of high mountains and beautiful valleys. Its mountains are snow covered its lake crystal blue and its valleys filled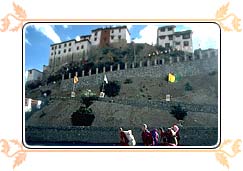 with fruits, flowers and pine and deodar forests. This land of the Gods is particularly influenced by Lord Shiva, Durga and Buddha along with numerous Rishi's and other gods of the Hindu religion. You can find the Shikara, Pagoda, and Mandap, Flat-roofed, Gompa and Cave styles of temples. The monasteries with their Gompas that are found here are both old and new. One among the various beautiful monastries is 'Kye Monastery'.
Ki Gompa
The 'Ki (Kye) Monastery' serves the western part of Spiti and the most prominent feature of the valley. It lies about 14-kms north of Kaza and holds the honor of being the oldest and biggest monastery of Spiti and also the oldest of Tibet monasteries.
It is a well-known religious training center for the Lamas of the Tibetan Buddhism, whom one will find dancing, singing and playing on their pipes and horns. One will also find murals, books, scriptures and paintings of Buddha and other Goddesses.
Ki Tibet monastery is an outstanding example of the monastic architecture, which developed during the 14th century in the wake of the Chinese influence. The Mongols plundered the monastery in the middle of the 17th century. In the 19th century, it again suffered three brutal attacks. The successive trails of destruction and patch-up jobs have resulted in a haphazard growth of box-like structures, and the complex now resembles a defensive fort.