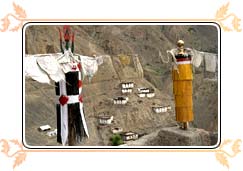 About Dhankar Gompa
Lahaul and Spiti is the remote Himalayan valleys of Himachal Pradesh, lying on the Indo-Tibet border. A high altitude cold desert, the region is dotted with famous monasteries, villages like little green oases in a stark, brown and dry landscape, miles of rolling pastures, 6000m peaks and swollen rivers which turn into mere trickles in winter. It is a fascinating land for Buddhist art and culture. Among these glaciers, high ridges, broad valleys, pastures is situated world famous Dhankar Monastery.
Dhankar Trek
Dhankar situated on the altitude of 12,774 feet above the sea level, south of Kaza around 24 kms. It was traditional Capital of Spiti valley date back to 17the century. The Dhankar Castle is sets picturesquely on a clay hill above Shichilling village on the banks of Dhankar lake. Now new monastery has already constructed below the Castle. There is a natural Lake at about 13,500 feet. Behind the village around 2kms. The Dhankar monastery belongs to Gelugspa School of order. All this in together make this place an ideal destination for a trekking trip beside visiting the Buddhist monastery here.
The Gompa has over 150 monks, some fascinating 'thangka' sculptures and a statue of the 'Dhyan Buddha'. Some of the Gompas were destroyed during a particularly harsh winter in 1989. Principal figure is a Statue of " Vairochana" (Dhayan Budha) consisting of 4 complete figures seated back to back. It has relics in the shape of paintings and sculptures. For more info Dhankar map would guide you through this hilly terrain.