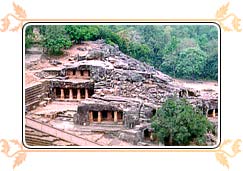 About Udaygiri
One of the earliest of Jain rock-cut caves, the caves of Udayagiri dominates a prime position in eastern India in the fields of history, rock-cut architecture, art and religion. Huge residential blocks for the Jain monks were carved out of the rocks at Udayagiri in the 1st century BC, in the city of Bhubaneswar. These caves were also an excellent canvas for the detailing of various achievements of King Kharavela's reign.
There are about 18 rock- hewn apartments at Udaygiri hills alone, with the Hati Gumpha or Elephant Cave, bearing the well-known inscriptions of the king. Both he and his queen appear to have been great patrons of the arts. In keeping with this patronage, the Queen's Cave is elaborately embellished with sculptural friezes and carvings of historical scenes and dancers in a variety of poses. The Ganesha Gumpha is well worth a visit.
Khandagiri
has also about 15 caves.
Udaygiri hills or the Sunrise Hill has many interesting caves. The 117 line inscription of Hathi Gumpha is a magnification record in Pali Language of the exploits of King Kharvel (166 B.C.to 153B.C.). These 4 caves were built mainly for the Jain monks.
There is an elephant in front and a carving of Ganesh on the right side of the back wall. You can then go up the hill to the top from where there is a good view of the surrounding area. The central Hathi Gumpha (Elephant Cave) is especially interesting. It has an inscription in the ancient language of Magadhi describing the history of King Kharavela, who funded the carving of some of the caves. .