About Sravanabelagola
Sravanabelagola also called Gomateshwara Shravanabelagola, a great centre for Jain culture is situated at a distance of about 100 kms from Mysore and is famous for its colossal statue of Gomateshwara who is also referred to as Lord Bahubali. Carved out of monolithic stone, the imposing 17 metre high statue of Gomata towers stands in majestic splendour and is visible even from a distance of 20 kms. Starkly simple, the beautifully chiselled features of the statue embody serenity. His perfect lips are turned out at the corners with a hint of a smile, viewing the world with detachment.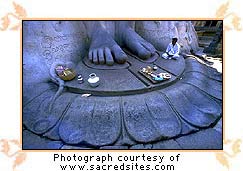 Sravanabelagola means 'the monk on the top of the hill' and hermits, mystics and ascetics have journeyed and lived there since at least the third century BC. In those early times the hill was thickly wooded and hermits could feed themselves from the forest. In the mid-tenth century AD temples began to be built and the site grew to be one of the most important pilgrimage sites of the Jain religion.
The hill of Shravana Belagola Jain temple, (also called Vindhyagiri or Per-kalbappu), looms majestically at 3347 feet above sea level. From the base a flight of 614 steps, finely carved from the granite of the mountain, leads to the summit, where a great statue of Sri Gomatheswar Shravanabelagola stands. At 58 feet 8 inches high, it is the tallest free-standing statue in the world. You must climb barefoot, which poses a problem when the granite heats up, so get there early.
Sravanbelagola History
Sri Gomatheswar was the son of the legendary first Tirthankara (a mythical, enlightened sage of Jainism). The chief festival of Sravanabelagola is called Maha Masthaka Abhisheka, or the 'Head Anointing Ceremony'. During this incredible event a scaffolding structure is built around the statue and over a million devotees make a pilgrimage to its base to chant holy mantras and pour thousands of gallons of milk, honey and precious herbs over the head.
While flowing downwards over the body, these offerings are believed to acquire a powerful charge of spiritual energy. They are collected at the feet and distributed to those who believe that the gift will assist their quest for enlightenment. The festival is performed only once every 12 to 14 years during periods of rare astrological significance. The next one will be held in 2005, so you've got plenty of time to organise a trip. It'll be worth it.
Pilgriamge Attractions of Sravanabelagola
In addition to this statue, there are several Jain bastis (temples) and monasteries in Sravanabelagola and also on the nearby Chandragiri Hill. Of these, Chavundaraya Basti is of historical significance.