About Khandagiri
A few km west of Bhubaneswar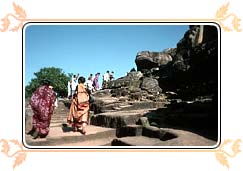 city centre are two hills, facing each other, honeycombed with caves, most of which are numbered. One of them is the Khandagiri caves, situated on a hillside about 6-km from Bhubaneswar. The sandstone caves were excavated by Jain and Buddhist ascetics from the 1st century BC. The hills are literally filled with caves and over recent years the preservation of the rare carvings and general structure of the site has been the focus of a great deal of attention from the Archaeological Survey of India.
Reaching Khandagiri Udayagiri Caves
The Khandagiri Caves the famous Jain caves are reached via a steep path which divides halfway up the hill. To the right is
Udaygiri caves
with its carved figures of elephants, and women which are worth a visit. Across the road just a few minutes walk leads to Khandagiri Caves. Here the Ananta Vasudev Cave , with its decorated pilasters and carved figures,is most interesting. A short but steep path leads to the top of the hill from where a panormic view of the city is obtainable.
Khandagiri caves can be reached by going up the steps next to the entrance to the Udayagiri caves. If you climb these steps, when the path divides, take the right path and you come to Caves 1 and 2. They are known as the Parrot Caves because of the birds carved over the doorways. Return on the path for 30m and then climb some steps to the Udayagiri and Khandagiri caves (3), which has carvings of elephants, women, and a bird carrying flowers. It has the best sculptures of the Khandagiri Caves. You can then climb the hill, passing the Jain temples, and at the top, there is an 18th century temple dedicated to Mahavir, the 24th tirthankara (Jain teacher). From the temple there is a good view of Bhubaneswar, including the Lingaraja Temple.