| | |
| --- | --- |
| Population | 51, 934 |
| Language | Gujarati, Hindi, and English |
| Best time to visit | October to March |
About Palitana Jain Temple
Amongst all the Jain temples, Palitana Jain mandir are considered to be the most sacred. Located on Shetrunjaya hills there are 863 Jain Palitana temples in Gujarat, exquisitely carved in marble. No one is allowed to sleep overnight including the priest, because the temple city has been built as an abode for the Gods. The town is considered by many Jains to be more important than the other
Jain thirth yatra
temple covered hills of Bihar, Gwalior, Mt Abu and Girnar. Palitana Gujarat was the capital of a princely state of the Gohil Rajput clan. It is also one of the greatest tourist attractions in Gujarat for foreign tourists.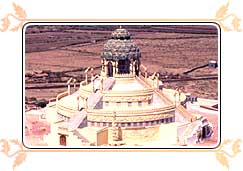 Temple of Palitana - Location
Palitana is located in the western Indian state of Gujarat, 51 km south west of Bhavnagar. It is a part of the Saurashtra region famed for its spectacular temple sites, cities, beautiful beaches, and wildlife. The town has a good road and rail network that connects it to the other cities of Gujarat, especially Bhavnagar.
Jain Temple Palitana - Climate
The Palitana weather is generally pleasant. The summer season continues from March to June, with daytime temperature reaching 40°C.The monsoon reaches Palitana in July and remains there till September. Winter sets in around October and continues till February. The summer temperatures range from 24°C to 42°C and winter temperatures range from 10°C to 24°C.
Palitana History
The act of ascending a path to reach a place of pilgrimage is a part of the Hindu and Jain consciousness, which is why many of their holiest temples are located along hills and mountain ranges. The Jains have five separate hill locations for their holiest clusters of temples and Shatrunjaya Hill, Adinath Palitana is considered the most important among them. Another group is in Girnar (Junagadh), not too far away, while others are in Rajasthan and Maharashtra.
Palitana India houses perhaps the largest cluster of Jain temples anywhere. From the base to the peak of the Shatrunjaya Hill, where the Palitana temples are located, there are in all 863 temples. These temples were built in two phases-the 11th and 12th centuries as a part of the resurgence of temple building all over India, and in the 16th century. Some of the earliest temples built in the 11th century were destroyed by Muslim invaders in the 14th and 15th centuries. The current temples date back to 16th century onwards. Not any one person or group was responsible for the construction of these magnificent temples. It was the effort of the wealthy businessmen who were followers of Jainism that these buildings came into existence and where today you can do the Palitana darshan .