About Ladakh Festival
Most of the festival in Ladakh are the annual monastic festivals. The monastic festivals are dance-dramas in the gompa courtyards. The performers are the lamas, the monks themselves. Wearing colorful garments and often frightful, at times comic masks, the monks perform mimes representing various aspects of the religion, be it the progress of the individual soul and its purification or the triumph of good over evil. There are some non monastic festival of Ladakh such as Losar or New Year celebrations. All the festivals represents the age old cultural heritage of Ladakh festivals. Few of the famous monastic festivals are: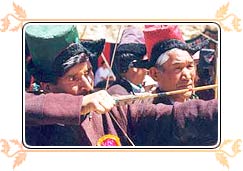 Losar
Celebrated on the first day of the eleventh month of every year, Losar is the New Year celebrations which is the most elaborate of all the socio -religious festival of Ladakh. It involves the entire population of the region. Interestingly, the rites and rituals are a mixture of Buddhist and the pre Buddhist Bon religious practices.
Gu-stor
Gu-Stor literally means 'Sacrifice of the 29th day'. It is traditional to the monasteries of the reformist Geluk-pa order of Tibetan Buddhism. This two-day long festival is held mainly in the Spituk, Thiksay (also spelt as Thiksey) and Karsha (Zanskar) monasteries, at different times every year.
Dosmosche
An ancient tradition started by the kings of Ladakh , Docmoche is still celebrated every year in February with great pomp and fervour. The courtyard of the chapel below the gates of the Leh of the Leh Palace comes alive with the music of drums and the thumping steps of the masked Lamas from different monasteries performing the sacred dance-drama. The Lamas prepare, consecrate and eventually destroy the sacrificial offerings as the climax.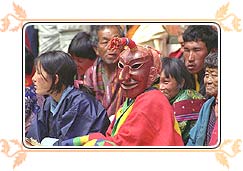 Tse-Chu
Yet another festival of Ladakh oracles, this is held in Stok, the present seat of royal residence. The two Stok oracles, unlike those at Matho are laymen, spiritually cleansed and prepared by the lamas of the Spituk Monastery to receive the spirit of the deities.
Matho Nagrang
On the 15th day of the 1st Tibetan month, a 2-day festival is held at the Matho Monastery- the only Saskyapa monastic establishment in Ladakh . During this festival, the two oracles of the monastery make a public appearance in their full spiritual form. These oracles, actually monks of the monastery, meditate in complete isolation fro a full month in preparation of entering in a state of trance and invoking the spirit of the deities.
Yuru Kabgyat
This 2-day festival is celebrated during July, in the spectacularly situated monastery of Lamayuru, about 127-km west of Leh . The masks worn by the lamas during the dances represent guardian divinities from the Dringungpa pantheon.