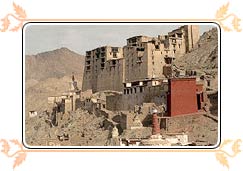 About Ladakh Trip - Enjoy Travel To Ladakh
Where is Ladakh? - Situated at an altitude of 9,000m, Leh and Ladakh is the remotest region of India. Yet, it's high mountains, beautiful valleys & lakes, ancient Buddhist monasteries has given various names to the region such as The Moonland, Little Tibet, The Last Shangri La etc. Ladakh has four major mountain ranges, the great Himalayan, Zanskar, Ladakh and the Karakoram and a maze of enormously high snowcapped peaks and the largest glaciers outside the polar region dominating the terrains.
Ladakh Tourism - Explore The Beauty of Leh Ladakh Tour
The moment a traveler enters Ladakh, he is welcomed by the mountains of varied colors, covered with a sheet of snow and in the backdrop of an intense blue sky. One can only fantasize these sceneries, until you visit Ladakh. The people residing here are quite different from rest of India. The faces and physique of the Ladakhis, the Ladakh weather and the Ladakh clothes they wear, are more akin to those of Tibet and Central Asia than of India.
Road To Ladakh - Gateway To Heaven
The original population may have been Dards, an Indo- Aryan race from down the Indus. But immigration from Tibet, perhaps a millennium or so ago, has largely overwhelmed the culture of the "Dards" and today's population seems to be mostly of Tibetan origin resulting in a great influence of Buddhism in this region. Inspite of being the remotest region of India, it is only due to the influence of Buddhism that women of Ladakh not only work in the house and field, but also do business and interact freely with men other than their own relations.
Trip To Ladakh - The Buddhist Center
The most attractive features of the landscape of Ladakh are the Buddhist gompas or monasteries and also the Ladakh trek ideal for trekking. Built either on the highest point of the mountain or over the cliffsides, the gompas are located within the surroundings of villages. These aesthetically pleasing, architecturally interesting gompas are the epicenter of faith. They are places of worship, meditation and religious instruction for Buddhist people and possess a wealth of artifacts. Once you are there click lots of Ladakh photos while enjoying Ladakh tour packages ot even the romantic Ladakh honeymoon packages. For more info Leh Ladakh map will help you.