About Ladakh Culture And Hemis
The Hemis festival is dedicated to Lord Padmasambhava (Gur Rimpoche) venerated as the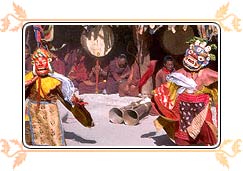 representative reincarnate of Buddha. He is believed to have been born on the 10th day of the fifth month of the Monkey year as predicted by the "Shakia Muni Buddha". It is also believed that his life mission was, and remains, to improve the spiritual condition of all living beings. And so on this day, which comes once in a cycle of 12 years, Hemis observes a major extravaganza in his memory. The observance of these sacred rituals is believed to give spiritual strength and good health.
About Hemis Festival
The
Hemis festival
is an inbulit part of the Ladakhi culture and takes place in the rectangular courtyard in front of the main door of the monastery. The space is wide and open save two raised square platforms, three feet high with a sacred pole in the center. A raised dias with a richly cushioned seat with a finely painted small Tibetan table is placed with the ceremonial items - cups full of holy water, uncooked rice, tormas made of dough and butter and incense sticks. A number of musicians play the traditional music with four pairs of cymbals, large-pan drums, small trumpets and large size wind instruments. Next to them, a small space is assigned for the lamas to sit.
The Beginning of Ceremony
The ceremonies of the festival as described in the Ladakh history begin with an early morning ritual atop the Gompa where, to the beat of drums and the resounding clash of cymbals and the spiritual wail of pipes, the portrait of "Dadmokarpo" or "Rygyalsras Rimpoche" is then ceremoniously put on display for all to admire and worship.
The most esoteric of festivities are the mystic mask dances. The Mask Dances of Ladakh are referred collectively as chams Performance dating from the ancient learning from Ladakh. Chams performance is essentially a part of Tantric tradition, performed only in those gompas which follow the Tantric vajrayana teachings and the monks perform tantric worship.