Following The Buddhism Philosophy
Buddhist Festivals are the days for joy and celebration commemorating some significant events related to lord Buddha. Apart from religious significance, Buddhist Festivals also imparts an opportunity for the people to meet and indulge themselves in Buddhist meditation in local temple or monastery. The principal Buddhist beliefs celebrate 'the Three Jewels', the Buddha, the Dharma (the Buddhist Teaching), and the Sangha (the spiritual community).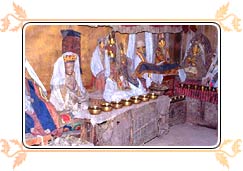 Tracing Back The Philosophy of Buddhism
It is difficult to establish when Buddhist philosophy or religion was introduced into Ladakh. It is however definite that its first influence was under the reign of the Emperor Ashok. The true representative of the ancient practices and artistic traditions of Buddhist prayers, dating back to over a thousand years are the monasteries. These Ladakhi monasteries are excellent examples of Tibetan architecture and impart the special impression of living a moment of eternity to all its visitors.
Buddhist Festivals- Culminating The Tibetan Buddhist Philosophy
Many of the annual festivals of the monasteries take place in winter, a relatively idle time for the majority of the people. These festivals are a colorful events that take the form of dance-dramas in the Gompa courtyards. Lamas or Buddhist monks, robed in colorful garments and wearing often startlingly frightful masks, perform mimes representing various aspects of the religion such as the progress of the individual soul and its purification or the triumph of good over evil.
Everyone is invited to participate in these festivals, irrespective of caste, status or religion. Local people flock from near and far to these events, and the spiritual benefits they get are no doubt heightened by their enjoyments.
Some of the major festivals of Ladakh are
Hemis festival
, gu-stor, losar, phyang tsedup, sindhu darshan festival, matho nagrang, monastic festivals, stok guru tse-chu, dosmoche, yuru kabgyat, galdan namchot. All Ladhaki Buddhists celebrate these festivals (one will also find their mention in Buddhist philosophy books) by making offerings to the gods, both in the gompas and in their domestic shrines.