| | |
| --- | --- |
| Location: | 67-km From Chittoor, Chittoor District, Andhra Pradesh |
| Famous For Having: | World's Richest Temple |
| Famous As: | A Pilgrimage Centre |
| Nearby Attractions: | Sri Kalyana Venkateswaraswami Temple, Sri Venugopalaswami Temple, Srikalahasti. |
| Related Links: | Tirupati Tirumala Balaji Temple |
Tirupati Travel :
Tirupati, one of the richest temples in the country, is the most venerated Vaishnavite shrine of Lord Venkateswara. It was patronised by the Pallavas, the Cholas, the Pandyas and the Vijayanagar kings. 130 kms from the city of Madras (Chennai), this temple is located in the southern Chittoor district of Andhra Pradesh. Tiru' in Tamil means `Sri'. Hence Tirupati translates to Sripati or Sri Maha
Vishnu
.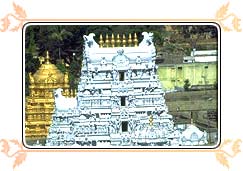 According to the Puranas, the range of Tirumala hills represent the body of the serpent Adisesha, on which Lord Vishnu, the protector of the world, rests. The seven hills represent the seven heads of the serpent.
Location :Tirupati Pilgrimage
Tirupati town is 67-km from Chittoor in Chittoor district, the southern portion of Andhra Pradesh. The most important place of interest at the place is the historic shrine of Sri Venkateswara, the Lord of Seven Hills, who is famous all over the country.
Tirumala Tirupati Devasthanams
Tirumala Tirupati Devasthanams referred as TTD is an independent trust which manages the Tirumala Venkateswara Temple at Tirumala,
Andhra Pradesh
. The trust not only oversees the operations and finances of the richest and the most visited religious center in the world it is also involved in various social, religious, literary and educational activities within Andhra Pradesh and India. TTD employs about 16,000 people to maintain the 12 temples and sub-shrines under its control along with the execution of its social activities.
History : Tirupati Balaji Temple Andhra Pradesh
Tirupati was developed mainly by the contributions made by kings during their rule. Almost all the kings from great dynasties of the southern peninsula have paid homage to Lord Sri Venkateswara in this ancient shrine of Tirupati. The Pallavas of Kancheepuram (9th century AD), the Cholas of Thanjavur (a century later), the Pandyas of Madurai, and the kings and chieftains of Vijayanagar (14th - 15th century AD) were devotees of the Lord and they competed with one another in endowing the temple with rich offerings and contributions.
During the rule of the Vijayanagar dynasty contributions made to the temple increased enormously. Krishnadevaraya had statues of himself and his consorts installed at the portals of the Tirupati temple, and these statues can be seen to this day. There is also a statue of Venkatapati Raya in the main temple at Tirupati.