| | |
| --- | --- |
| Location : | 75-Km From Chennai, Tamil Nadu |
| Called: | Religious Capital Of South India |
| Famous Temples In Kanchipuram : | Kamakshi Amman Temple, Varadaraja Temple, Kailashanathar Temple, Ekambareshwar Temple, Kumara Kottam, Ulahalanda Perumal Temple |
Kanchipuram is known as one of India's Seven Sacred cities. Kanchipuram was, one of India's seven sacred cities. Kanchipuram was the historical capital of the Pallavas. It was under the Pallavas from 6th to 8th century A.D and later became the citadel of Cholas, Vijayanagar Kings, the Muslim and the British. It has been a centre of Tamil learning,
cultural and religious
background for centuries.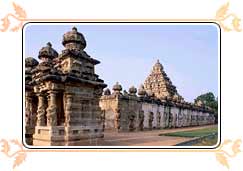 Kanchipuram sarees made of finest silk are famous throughout the country. Kanchi has magnificent temples of unique architectural beauty bearing eloquent testimony to its glorious Dravidian heritage. Adi Sankara established his episcopal seat (Kamakotipeetam). Kanchipuram is the birth place of C.N. Annadurai, former Chief Minister of Tamil Nadu affectionately called as "Anna" by the people of Tamil Nadu.
Kanchipuram India, the Golden City of a thousand temples, is the capital of the Pallavas, the Cholas and the Rayas of Vijayanagar. During the 6th and 7th centuries, some of the best temples in the city were built by the Pallavas. The city was also a great seat of learning. Sri Sankaracharya, Appar, Siruthonder and the great Budddhist Bhikku lived, and worked here. Today, it is known not only for its temples, but also for its handwoven silk fabrics.
Location
Kanchipuram is one of the most sacred
Hindu pilgrimage
sites in India and the seat of the Shankaracharya. The temple city of Kanchipuram extends from latitude 12° 50' in the north to longitude 79° 45' in the east. The city is situated around 70 km from Chennai in the south Indian state of Tamil Nadu.
Climate
The climate of Kanchipuram district is tropical with an almost uniform temperature throughout the year. During summers, the temperature ranges between 36.6°C and 21.1°C. Winter months are slightly colder and the temperatures remain between 28.7°C and 19.8°C. The average annual rainfall in the city is 87 cm.
History
Kanchipuram Temple or the Golden City of Temples is one of the most important centers of Hindu religion and also one of the most picturesque. The place is one of India's seven sacred cities and the second holiest after Varanasi.
The city was once the capital of the Pallavas, Cholas, and the Vijayanagar rulers. It was under the Pallavas from 6th to 8th century AD but, during that period, was also briefly occupied by the Chalukyas, and the Rashtrakutas. Many of the temples situated here are the work of the Pallavas and later Cholas.