| | |
| --- | --- |
| Where is Madurai : | Madurai, Tamil Nadu |
| Deity Worshipped: | Lord Somasundara (Lord Shiva) And Goddess Meenakshi |
| Built By: | The Pandyan King, Kulasekhara |
| Important Festivals Celebrated: | Meenakshi Kalyanam in April-May And The Teppam Festival |
| Related Links: | Meenakshi Temple |
Madurai India :Madurai City is one of the oldest cities of
southern India
. It has been a centre of learning and pilgrimage, for centuries. Legend has it, that the divine nectar falling from Lord Shiva's locks, gave the city its name - Madhurapuri, now known as Madurai.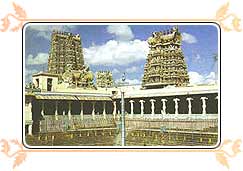 Madurai History
Madurai south India history dates back to over 2000 years ago, when it was the capital of the Pandyan kings. In the 10th century AD, Madurai was captured by the Chola emperors. It remained in their hands, until the Pandyans regained their independence in the 12th century, only to lose it to the Muslim invaders under Malik Kafur, a general in the service of the Delhi Sultanate. Malik Kafur's dynasty was overthrown by the Hindu Vijaynagar kings of Hampi. After the fall of Vijayanagar, in 1565, the Nayaks ruled Madurai until 1781 AD.
During the rule of the Nayaks, the bulk of the Madurai Meenakshi temple was built, the main attraction for visitors, today. Madurai also became the cultural centre of the
Tamil
people. Madurai passed on to the East India Company in 1781, and in 1840, the Company razed the fort which had previously surrounded the city, and filled in the moat. Four streets, the Veli streets, which were constructed on top of the fill, till today, define the limits of the old city. Track the important attractions of the city from Madurai map.