Fatehpur Sikri Information
Fatehpur Sikri Location
Fatehpur Sikri is located 40 kilometers from Agra, in Uttar Pradesh.
How To Reach Fatehpur Sikri
The most convenient way to visit Fatehpur Sikri is on a day trip from Agra. You can travel either by a taxi or bus.
Distance From Major Indian Cities
Delhi To Fatehpur Sikri - 222.7 km
Agra To Fatehpur Sikri - 40 Km
Mumbai To Fatehpur Sikri - 1,200.0 km
Fatehpur Sikri History
The founding of Fatehpur Sikri reads like a fairytale. When all else had failed, the Emperor Akbar came here in search of the renowned Sufi mystic, Sheikh Salim Chishti, to ask the blessing of a son. His prayer was heard, and soon a son was born. In honour of the saint, Akbar named the prince Salim and vowed to found a new city. And so Fateh pur Sikri, a magnificent new city rose on the craggy hills 40 kms from Agra. And for 16 short but memorable years it was the wonder of travellers from all over the world.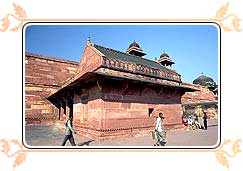 About Fatehpur Sikri India
Today, Fatehpur Sikri tour takes you to a deserted, phantom city. But the inner citadel is immaculately preserved. Its walls, palaces, baths, royal mint,courts and gardens still stand in splendidhomage to a great visionary and builder. The heart of the palace complex however, is verymuch alive. For at the tomb of Sheikh Salim Chishti, a white marble canopy set in the greatcourtyard of the Royal Mosque, pilgrims still come in thousands to offer flowers, tie a threadin the latticed screens, and to pray for the gift of son.
Fatehpur Sikri Architecture
Is one of the finest examples of Mughal architectural splendour at its height. Though the city is in ruins, it is a place to visit if one comes to Agra. But in real terms Fatehpur Sikri fort is a place where one should spend some time. The sunset over the ruins is sight to cherish. Fatehpur Sikri palace complex is the best example of the culmination of Hindu and Muslim architecture. Fatehpur Sikri Mosque is said to be a copy of the mosque in Mecca and has designs are derived from the Persian & Hindu architecture. Entrance to this mosque is through the Buland Darwaza which was built in Gujrat and is 54 meter high. To the North of the Mosque is the dargah of Shaikh Salim Chishti. This dargah was built in 1570. Here childless women come for blessings of the saint. Even Akbar was blessed with three sons when he came here. The lattice work in the Fatehpur sikri dargah is among the finest to be found any where in India.