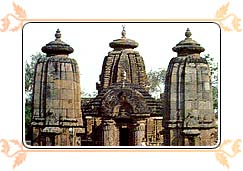 Mukteswara Travel : Built in the year of AD 950, Mukteswara temple Bhubaneshwar is dedicated to Lord Shiva, and is carved with figures of ascetics in several poses of meditation. The highlight of the temple, is the magnificent torana - the decorative gateway, an arched masterpiece, reminiscent of
Buddhist
influence in Orissa.
Architectural Wonder
The sculptural decoration of the Mukteswara temple Orissa is exquisitely executed. The beautiful sculptures eloquently speak of the sense of proportion and perspective of the sculptor and their unique ability in the exact depiction of the minutest objects. The builders of Mukteswara Temple introduced new architectural designs, new art motifs and new conceptions about the icnography of the cult images. There are a number of depictions of skeletal ascetics among the sculptural images, most of them shown in teaching or meditation poses, which seems appropriate as the name Mukteswara means "Lord who gives freedom through Yoga".
Sculpture of Mukteswara Temple : This Mukteswara Mandir is considered to be the gem of Orissan architecture. The sculpture gateway, the Jagamohana with diamond shaped latticed windows and decorated interiors and the plethora of sculptural work all deserve mention in this temple dedicated to Shiva Although it is only a small monument rising to a height of 35 feet. Literally every inch of its surface is carved. This temple has also been described as a dream realized in sandstone and it is a monument where it is said sculpture and architecture are in complete harmony with one another. This temple dates back to the 10th century.