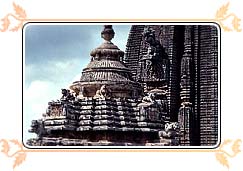 Situated in the ancient capital of the Kalinga empire, Bhubaneswar's, the Lingaraja Temple is probably one of India's most remarkable
ancient
, architectural achievements, with a 54-meter tower dominating the landscape. Encapsuled by high walls on all sides, the Lingaraja temple or the Bhubaneshwar is one of the most well known temples in Orissa. It is one of the best and splendoured examples of the architectural excellence which the artists had achieved during the 11th century.
The Temple
The vast Bindu Sagar lake is the center around which are located the multitude of temples of Bhubaneshwar. The Lingaraja temple is located in a spacious courtyard covering over 250000 sq feet and is bounded by fortified walls. Its tower rises up to 180 feet and is elaborately carved.
Lingaraj Temple History
Lingaraaj means The king of Lingam, the symbol of Shaivism. Shiva is here worshipped as Tribhuvaneshwara (Master of three worlds, i.e. Heaven, Earth and Netherworld). His consort is called Bhuvaneshvari. The temple is more than 1100 years old, dating back in its present form to the last decade of the eleventh century, though there is evidence that parts of the temple have been there since sixth century CE as the temple has been emphasized in some of the seventh century Sanskrit texts. This is testimony to its sanctity and importance as a Shiva shrine By the time the Lingaraj temple was constructed, the
Jagannath
(form of Vishnu) cult had been growing, which historians believe is evidenced by the co-existence of Vishnu and Shiva worship at the temple. The temple is traditionally believed, though without historical authentication, to be built by the Somavanshi king Jajati Keshari, in 11th century CE. Jajati Keshari had shifted his capital from Jajpur to Bhubaneswar which was referred to as Ekamra Kshetra in the Brahma Purana, an ancient scripture.
Lingaraj Temple Architecture Excellence
The outer walls of the temple exhibit unparalled carvings. The beautifully carved and sculpted images of various God and Goddess are unrivalled. The temple complex has three compartments and each one has a temple each. Towards south of the entrance to main temple is image of Lord Ganesha, at the back is the image of Goddess Parvati and to north is Lord Kartikya. The Lingaraja temple has got various pillars and halls which add to its beauty.
Lingaraj Temple Timings
Mon:6 AM - 6 PM
Tue:6AM - 6 PM
Wed:6 AM - 6 PM
Thus:6 AM - 6 PM
Fri:6 AM- 6 PM
Sat:6 AM - 6 PM
Sun:6 AM- 6PM