Bhubaneswar Tourism
: The ancient capital of the Kalinga empire, and now the capital of Orissa , Bhubaneswar's history goes back over 2000 years. "
Orissa
" means the "abode of God" or "master of the universe" and it was also, once known as the 'Cathedral of the East', on account of the large number of shrines. At one time, the Bindu Sagar tank was bordered by over 7000 temples. Of these, 500 still survive, all built in the extravagant Oriya style. It is of these temples, that the great poet, Rabindranath Tagore had once said - 'At all places where the eye rests, and also at places where the eye does not rest, the busy chisel of the artist has worked incessantly. The abode of god has been enveloped by a variety of figures depicting the good and the evil, the great as well as the insignificant, the daily occurrences of human life....'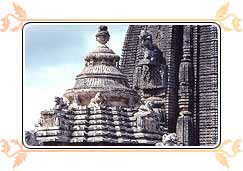 The People
Since primeval days various people have inhabited the land of Orissa. The initial homesteaders of Orissa were primitive hill tribes like Saora or Sabar from the Mahabharata days. Most of the tribal people have been induced by
Hindus
and have embraced Hindu bearings, customs and ceremonies. Bonda Parajas of Koraput district is the foremost example of these tribes.
These tribes are not at all touched by neoteric edification and thus the tribal traditions have been left flawless through the ages. Each tribal group has its own distinct language, culture, religion and social customs.
Orissa is the state with 3rd highest centering of tribals with almost 62 tribes existing in the city today. The tribal population is located mainly in the Korapur, Phulbani, Sundargarh and Mayurbhanj districts.
The regional language of the city is Oriya belonging to Aryan family of languages and is closely associated to Assamese, Bengali and Maithili.
Culture of Orrisa
Bhubaneswar holds an opulent artistic tradition, which enjoyed reform custom from the temples. Land of adroit artists and craftsmen, still retain their nativity and continuously trying to purge it to suit a changing milieu.
The rich Orissa culture is also depicted in its glowing traditional Odissi Dance. The intricate and elegant hand, feet and facial movements are all the additional charms of the dance. The dance features Jayadev's "Gita Govinda" the 12th century epic that deals with stories representing Krishna's love for Radha expressing both
divine
and passionate emotions in the dance drama. In olden days the dance was a form of devotion and was performed in the temples as a tribal offering to the Gods.
"Chaitghoda", the traditional dance of fishermen shows rich cultural heritage and is performed by using a dummy horse depicting the battle drama called "Pari ka Nritya".
Other folk and tribal dances include Danda Nata a dance drama showing acrobatic charms in which dancers perform balancing acts on bamboo stilts. Chhah-masked dance is performed during festivals.