| | |
| --- | --- |
| Location: | Uttar Pradesh |
| Significance: | Sikh Pilgrimage |
| Altitude: | 4329 m Above Sea Level |
Hemkund Sahib India :
The high altitude Lokpal lake,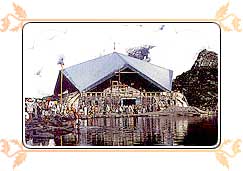 known as Hemkund ( 4329 mts.) lies in heavenly environs. A steep Hemkund Sahib trek from Ghangharia leads one to this spot in about four to six hours. It is an important pilgrimage for both Hindus and Sikhs, as well as for people from other faiths. There is a
Sikh Gurudwara
and a Lakshman temple built on the bank of the lake. Encircled by seven snow clad peaks and their associated glaciers, it reflects its surroundings enchantingly on its crystal clear serene waters. The glaciers from Hathi Parvat and Saptrishi peaks feed the lake and a small stream called Himganga flows out of this lake.
Yatra Hemkund Sahib
Hemkund Sahib Yatra starts on June 1 every year, and ends on October. There is also facility of Hemkund Sahib Yatra By Helicopter. On the Hemkund you can kill some time taking Hemkund Sahic pictures and Valley of Flwoers photos nearby.
Hemkunt Sahib History
As alluded to, in the holy Granth Sahib, Guru Govind Singh, the tenth Guru of the Sikh faith had meditated on the bank of this lake in one of his earlier births. It is widely believed among
Sikhs
that Guru Govind Singh introduced the features now universally associated with Sikhism. On 15th April 1699, he started the new brotherhood called the Khalsa (meaning the pure, from the Persian word 'Khales') an inner core of the faithful, accepted by baptism (amrit).
The five K's' date from this period: kesh (uncut hair) kangha (comb), kirpan (dagger or short sword), kara (steel bangle), and kachh (boxer shorts). The most important is the uncut hair, adopted before the other four. The comb is sometime designated specially as wooden. The dagger and the shorts reflect military influence, while the bangle may be a from of charm.
It is believed that Lakshman, the younger brother of
Ram
, meditated by the lake and regained his health after being severely wounded by Meghnath, son of the demon Ravana, during battle. Despite its ancient connections, Hemkund/Lokpal was discovered by a Sikh Havaldar, Solan Singh and became a major pilgrimage centre only after 1930.