| | |
| --- | --- |
| Location: | 11-km From Ajmer, Rajasthan |
| Tourist Attractions: | 25 Bathing Ghats, Cattle Fair |
| Significance: | Houses The Only Brahma Temple In India. |
| Best Time To Visit: | Mid-October To Mid-March During Pushkar Mela. |
About Pushkar Tourism
Pushkar or Puskar is a small, mellow town with no vehicle traffic on the main street. There are over 400 temples in Pushkar city. Some of the important temples are dedicated to Brahma, Raghunath, Varaha, Savitri ,and Gayatri. It is famous for the Camel Fair, which takes place here in Oct/Nov. Alcohol and meat are supposed to be banned here. Pushkar is on the edge of the Rajasthan desert, 10 km northwest of Ajmer, 400 km southwest of Ajmer, 400 km southwest of Delhi, and 145 km southwest of Jaipur.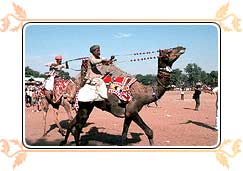 Pushkar In Rajasthan - The Legend
It is said that Lord Brahma's lotus flower fell in three separate places in the Pushkar area, and water came from the ground at each place. They are located within a radius of six miles. Senior Pushkar, where the hotels are located, is considered the most holy place, because the lotus fell here first. Middle Pushkar is 3 km down the road and has a small Hanuman temple and a 200-year-old banyan tree. New (Junior) Pushkar, 3 km further north, has a small Krishna temple. As Brahma threw the pushpa (flower) with his kar (hand), so the place received the name Pushkar.
Pushkar History
It is said that while Lord Brahma was passing this spot he dropped a lotus flower. From the spots where the petals fell, water sprang out and lakes were formed. There is a rectangular lake here surrounded by temples. According to the Padma Purana, Brahma, the lord of creation, killed a demon with a lotus flower here. He dropped the lotus at this place to kill the demon. Petals fell in three spots, where lakes emerged.
Brahma wanted to perform a yajna on the full moon day in Kartika (Oct/Nov). Lord Brahma, the creator, was in search of a suitable place to perform the yajna. The lotus from his hand fell down, rebounded, and fell at three places, from where water sprang. Thus Brahma decided to perform the yajna at Pushkar (push-lotus; kar-hand). But the yajna could not take place without his wife, Savitri, by his side, and she was late. Brahma therefore for him, so that he could fulfill the religious obligations. So the priest manifested a daughter called Gayatri. Because she was an untouchable, to purify her, she was put into the mouth of a cow and removed from the other end, which totally purified her. When Savitri arrived, she saw Brahma married without her permission. So she cursed Brahma that he would only be worshiped at Pushkar.
Enraged, Savitri went and established a temple at Rathkagir, on top of the hill a little south of Pushkar. It is said to be due to Savitri's resentment that Brahma is mainly only worshiped at Pushkar.