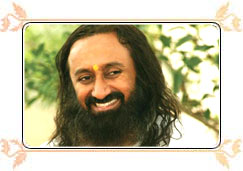 The Art of Living is basically the organizational activity which is not made for profit, educational and is also known as humanitarian NGO who were engaged in stress management initiatives. It has been founded by Sri Sri Ravi Shankar in 1981 and has also worked in more than 151 countries.
Sri Sri Ravi Shankar has guided this organizational activity with the philosophy of peace "Unless we have a stress-free mind and a violence-free society, we cannot achieve world peace." The techniques of Art of Living to guide the individual peace and it does also gives the stress elimination programs which involves breathing techniques, meditation and yoga. All these programs of this helps the people to overcome stress, violent mental tendencies and depression.
The Art of Living has spread among people through humanitarian projects like conflict resolution, disaster relief, sustainable rural development, women empowerment, prisoner rehabilitation, environmental sustainability and lastly education for all.
Courses of Art of Living:
The course of Art of Living is divided according to the age and category. There are many such courses that are made for the people who are working in corporate sector, youth, for children and teenagers etc. The courses of Art of Living are as under:
Art of Living- I
- Heal and Harmonize
- Learn Sudarshan Kriya
- Handling Emotions
Children and Teens
- Fun and Challenging
- Confidence and Concentratione
- Teamwork
Youth
- Fun and Dynamic
- Leadership and Responsibility
- Improve Relationship
Corporate
- Reduce Workplace Stress
- Foster Ethics and Teamwork
- Increase Energy Levels
Sri Sri Yoga
- Uniting Body, Breath and Mind
- Authentic Yoga
- Promote Well Being
Sahaj Samadhi Meditation
- Experience Meditation
- Your Personal Mantra
- Secrets of Consciousness
Service Initiatives by Art of Living Foundation:
Art of Living also works for the disaster relief like earthquake, flood or any other type of disaster. The programs that are run as the service initiative are as under:
- Disaster Relief: Chile earthquake (Feb 2010), Haiti earthquake (Jan 2010), Manila Flood Philippines (Sept 2009), Flood Relief in Bihar and North East India (2007/08), Vidarbha farmer Suicide (2007).
- Free Education: Sri Sri Ravi Shankar has also established more than 92 free schools in tribal and rural belts of India where poverty and child labor are spoiling the future of the upcoming generation.
- Youth Leadership Training Program: Established in August 1999, is a unique syllabus for youth that focuses on some certain area of human personality.
- Prison Empowerment: Prison is the place of rejuvenation and also offers the special training program which can even reduce the cycle of violence among them.
- Women Empowerment: Art of living also works as the spiritual foundation which nurtures the self esteem of women in every walk of life.
- Environmental Care: Art of Living as a spiritual foundation has moved forward as a team to nurture the environment. Water conservation and protection and cleaning of rivers also includes in environmental care.
Art of Living Centers in India:
The main center of Art of Living is in Ashram Bangalore but apart from that the centers are also located in almost all the metro cities like Delhi, Mumbai, Bangalore, Kolkata, Chennai, Pune, Ahmedabad. Rest the centers are also located in all the capital cities of the country.