| | |
| --- | --- |
| Area | 29.24 sq. kms. |
| Population | 2,00,216 ( 1991 census ) |
| Season | Throughout the year |
| Languages spoken | Tamil, English and Marathi |
Thanjavur Temple Information :Thanjavur was the royal city of the Cholas, Nayaks and the Mahrattas. Thanjavur derives its name from Tanjan-an asura (giant), who according to local legend devastated the neighbourhood and was killed by Sri Anandavalli Amman and
Vishnu
, Sri Neelamegapperumal. Tanjan's last request that the city might be named after him was granted.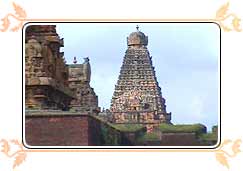 Thanjavur rose to glory during the later Chola reign between the 10th and the 14th Centuries and became a centre of learning and culture. It is the headquarters of the disrict of the same name. Thanjavur district, the ' Rice Bowl ' of
Tamil Nadu
, is also known for its exquisite handicrafts, bronzes and South Indian Musical Instruments. You can also indulge yourself in taking Thanjavur temples photos.
History
A brief introduction to the Later Cholas or the Thanjavur Cholas. Rajaraja Cholan the Great, occupies the foremost place in the history of the later Cholas. Vijayalaya Chola was the founder of the later Chola dynasty. He conquered the country from a vassal chief of the pallavas, and established Thanjavur as the capital of the dynasty. His son and successor Aditya I conquered the pallavas and the Kongu country; and his son Parantakan I (AD 907-953), under his leadership, the cholas acquired a dominion which foreshadowed the greater empire Rajarajan and Kulotungan.