| | |
| --- | --- |
| Location : | IIn Cuddalore District, Tamil Nadu |
| Also Known As : | Kuttalur |
| Main Attractions : | Swami Vivekanand Rock Memorial, Kumari Amman Temple |
South
. The coastline is almost regular except for some points of land projecting into the sea at Cape Comorin. Kanyakumari is the district headquarters of the district of the same name.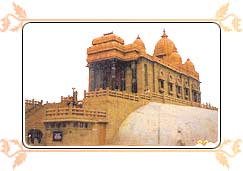 Tourism Kannyakumari
At the southern most land tip of India, where the Arabian Sea, the Indian Ocean and the Bay of Bengal meet, lies Kannyakumari, an important pilgrim centre. Kannyakumari is famous for its beach and the spectacular sunrises and sunsets, especially on full moon days. Kanyakumari is also famous for its vast green stretches of paddy fields, rich forests, coconut groves and mineral sands.
The Origin of Name : Kannyakumari Temple
Kannyakumari has been named after the
Goddess
Kannyakumari Amman who is the popular deity of the area. Legend has it that the Goddess Parvati in one of her incarnations as Devi Kanniya did penance on one of the rocks of this land's end to obtain the hand of Lord Shiva.
Location (Kanyakumari map)
Kanyakumari is the southern most district of Tamil Nadu. The district lies between 77o 15' and 77o 36' of the eastern longitudes and 8o 03' and 8o 35' of the northern Latitudes. The District is bound by Tirunelveli District on the North and the east. The South Eastern boundary is the Gulf of Mannar. On the South and the South West, the boundaries are the Indian Ocean and the Arabian Sea. On the West and North West it is bound by Kerala.
The History
Kanniyakumari district, once known as "The Granary of Travancore" lies at the southwestern part of Indian peninsula. It was in Travancore for a long time and then merged with Tamil Nadu in 1956 under the State Linguistic Reorganisation Act.
At the southernmost tip of India, where the Arabian Sea, the Indian Ocean and the Bay of Bengal meet, lies Kanyakumari, an important pilgrimage site. The Kumari Amman temple, here, is dedicated to Parvati as Devi - Kanya - the virgin goddess who did penance to obtain the hand of
Lord Shiva
.
Two rocks reach out of the ocean, south-east of the Kumari Amman temple. One of these is Sri Padaparai, where the footprints of the virgin goddess are to be seen. On this rock, Swami Vivekananda is said to have sat in deep meditation; and here stands the Vivekananda Rock Memorial, built in 1970.