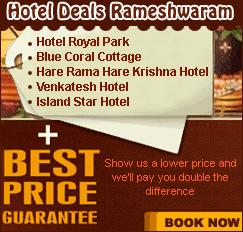 Rameshwaram is known to be the holiest pilgrimage destination to visit and also reaching the place is quite easy. This pilgrimage destination is nestled in the Gulf of Munnar and is well connected by air, rail and road.
By Air:
The pious land of Rameshwaram is well linked with the major cities of India. The closest airport to Rameshwaram is Madurai which is situated at the distance of 163 kilometers away from the city. Madurai is connected to many cities through air includes Coimbatore, Chennai and Bangalore. Travelers coming from abroad can get the connecting flight from Chennai International Airport. Prepaid taxis are available from Chennai to Madurai which will charge around Rs 3500 to Rameshwaram.
Flights connecting Rameshwaram:
International Flights:
Chennai is the nearest international airport from where the flights from all over the world are operated and they are:
Air India
Air Sahara
Indian Airlines
Jet Airways.
The other domestic flights that connects Chennai are as follows:
Air India
Jet Airways
Kingfisher Airlines
Air Deccan
Jet Lite
Paramount Airways
Go Air and Jagson Airlines
By Rail/Train:
Rameshwaram is well linked by rail with Chennai, Madurai, Coimbatore, Trichy, Thanjavur and other important cities of South India. The Indira Gandhi Bridge connects the Rameshwaram island with the mainland of Mandapan. The trains that run from Chennai to Rameshwaram are Rameshwaram Express and also the trains running to Madurai is the Nagercoil Express.
Trains connecting Rameshwaram:
Rameshwaram to Chennai:
Rameshwaram Express (6713)
Rameshwaram Express (6101)

Chennai to Madurai:
Ms Guruvayur Express (6127)
Vaigai Express (2635)
Nagercoil Express (0637)
Kanyakumari Express (2633)
Nagercoil Express (2689)
Tamil Nadu Sampark Kranti Express (2652)
Thirukurral Express (2642)
Nagercoil Express (0609)
Nagercoil Express (2667)
Anantpuri Express (6123)
Pearl City Express (2693)
Nagercoil Express (0631)
Kanyakumari Express (2665)
Tirunelveli Express (0603)
Pothigai Express (2661)
Nellai Express (2631)
Pandian Express (2637)
Tuticorin Express (0685)
Tirunelveli Express (0605)
By Road:
The buses that connects Rameshwaram from all the major south Indian cities are that includes Kanyakumari, Madurai, Trichy and Thanajuvar. The overnight deluxe super fast buses connects Chennai and Bangalore with Rameshwaram and the distance between both of them is 600 kilometers.
Reaching Rameshwaram from Chennai takes around 10 hours and is located at the distance of 566 kilometers. two types of buses are operated and they are:
Super - 218 ruppes
AC Volvo- 470 Rs