Once a great chandela capital,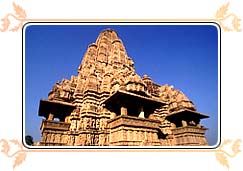 Khajuraho Temple History : Khajuraho is now a quiet village. The town of exotic temples, Khajuraho is one of India's major honeymoon attractions. They are India's unique gift to the world, representing a melody to life,which encompasses all emotions ranging from love, to joy. Life, in every form and mood, has been captured in stone, testifying not only to the craftsman's artistry but also to the extraordinary breadth of vision of the Chandela kings.
What to see on Khajuraho Travel
The architecture of the
temples
are unique, being very different from the temple prototype of their period. The erotic carvings of temples, make it a must-see. Originally there were 85 temples, but many were destroyed by the British. Today, only 22 are in fair condition.
Khajuraho Temples
Khajuraho temple complex site is one the most popular places both foreign and Indian tourists.Khajuraho group of monuments hold the attention of a visitor with their sculptural art, which is so exquisite and intricate, that one cannot even dream of cloning it now. The artist's creative instincts have beautifully captured various facets and moods of life in stone. The temples at Khajuraho are divided into three broad groups:
The Western Group
It is the largest, compact and centrally located group in Khajuraho, includes some of the most prominent monuments, built by the Chandela rulers. The Khajuraho Lakshmana Temple, the Matangesvara Temple and the Varaha Temple form one complex and the Visvanatha and Nandi temples are not far from this complex.
The Southern Group
It is the most distant one comprising of two main monuments near and across the Khudarnala. The southern group of monuments comprises the Duladeo and the Chaturbhuja temples. The Duladeo is about a kilometre south of the Khajuraho village and half a mile southwest of the Jain group of temples. The Chaturbhuja Temple is a mile further south and is close to the Khajuraho airport.
The Eastern Group
It comprises of five detached sub-groups in and around the present village of Khajuraho. The eastern group of monuments, situated in close proximity to the Khajuraho city, includes three Brahmanical temples known as Brahma, Vamana and Javari and three Jain temples, the Ghantai, Adinath and Parsvanath.
Khajuraho Dance Festival
Visitors are also drawn to a dance festival, celebrated in March, which attracts some of the best classical dancers in the country - the floodlit temples provide a spectacular backdrop during the event. In a setting where the earthly and the divine create perfect harmony, it is a spectacular event that celebrates the pure magic of the rich classical dance traditions of India.
Khajuraho Hotels
Hotel Harmony Khajuraho
Chandela Hotel
Hotel Surya Khajuraho
EuroStar Inn Khajuraho