| | |
| --- | --- |
| Birla Mandir Delhi Location : | Connaught Place |
| Built by : | B.D. Birla |
| Devoted to : | Laxmi and Narayan |
Hindu Temple
dedicated to Laxmi (goddess of wealth) and Narayana (the preserver). It was inaugurated by Gandhi with the stipulation that it should be open to all castes (including the untouchables) and all faiths, so it is more welcoming to foreigners than the average temple.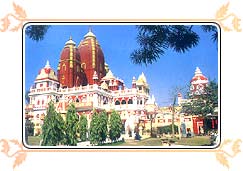 After visiting so many ancient Hindu temples, it was fun to see a modern functioning one. The whole temple was quite garish, and noisy with chants over the loud speaker system, but it was also strangely peaceful. In the garden there was a tree wound with colored strings, and two women were praying at the foot.
History
This temple was built over a six year period (1933 - 1939) and was opened by Mahatma Gandhi.
Birla Mandir Delhi Timings :
6am to 10pm (best to visit during morning and evening aarti)
Temple Architecture
The highest tower in the temple reaches a height of 165 feet while the ancillary towers reach 116 feet. The Geeta Bhavan, a hall is adorned with beautiful paintings depicting scenes from Indian mythology. There is also a temple dedicated to
Buddha
in this complex with fresco paintings describing his life and work. The entire complex, especially the walls and the upper gallery are full of paintings carried out by artists from Jaipur in Rajasthan. The rear of the temple has been developed as an artificial mountainous landscape with fountains and waterfalls.
Significance Laxi Narayan Mandir
This is one of the landmarks in the nation's capital New Delhi. It was built in the 20th century by the Birla family of industrialists known for its many other temples in India. It is modern in concept and construction. It attracts several devotees and international tourists. The presiding deity here is Lakshmi Narain (Vishnu).
Other Shrines in the temple
Durga and Shiva are the other major deities housed in this temple. Mention must be made of the Buddha temple in this complex. Access and Accommodation: Accomodation is available in the temple guest house for out of town travellers especially for international scholars pursuing knowledge in Sanskrit or in the Hindu religion. The temple is near to the Birla mandir Delhi metro station.