Hinduism
was formerly called 'Prayag' in commemoration of a sacrifice done by Lord Brahma. It is best known as host to the mind-boggling number of Kumbh pilgrims who visit this endearing city every 12 years. According to Hindu mythology for the 'Prakrishta Yagna' Lord Brahma chose a piece of land on the earth on the confluence of the three rivers - the Ganga, the Yamuna, and the mytical Sarswati. would merge into a confluence. The land being surrounded by these 3 rivers would serve as the prime and central altar and came to be known as 'Prayag' today known as Allahabad.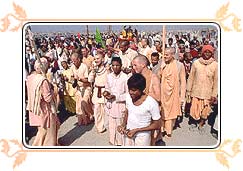 The most sacred spot in Allahabad is Triveni Sangam, the confluence of three of the holiest rivers of the Hindu mythology, the holy Ganga, Yamuna and the mythical Saraswati. Devout Hindus from all over India come to this sacred pilgrimage point to offer prayers and take a dip in the holy waters. It is believed that a holy dip taken at the Sangam washes away all sins.
The Prakrista Yajna was performed here by Lord Brahma. That is how it received its ancient name, Prayag. Allahabad is also called Tirtha-Raja, king of all holy places. It is said that Lord Rama visited Allahabad when He was in exile.
Location
Allahabad is one of the oldest cities in India. It is located 135 km west of
Varanasi
, at the confluence of India's two most important rivers-the Yamuna and Ganges. It is 585 km southeast of Delhi and 160 km south of Ayodhya. The main spiritual reason for coming here is to take bath in the Sangam, to confluence (where rivers meet), of the Yamuna, Ganges, and the underground Saraswati Rivers. It is one of the major pilgrimage sites in all of India.