Magh Mela 2012- Dates
Magh Mela 2012 will Start on 9 Jan 2012 and will continue till 20 February 2012.
First Day of Magh Mela is
Paush Purnima (9 Jan 2012)
. Other holy bathing dates are
January 14 Makar Sankranti
,
January 19 Shattil Ekadashi
,
23 January Mauni Amavasya
,
28 January Basant Panchami
,
January 30 Achala Saptami
and
7 February 2012 Maghi Purnima.
Apart from that
Maha Shivratri
bathing is on 20 February 2012.
Magh Mela is held annually, other than the years of Kumbh and Ardh Kumbh and is rightfully called the annual mini Kumbh Mela.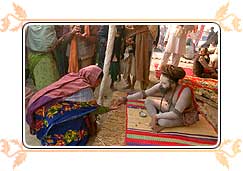 The auspicious Magh Mela is so called as it falls in the Magh period (Jan-Feb). This annual religious event or the great bathing festival is a smaller version of the gigantic Kumbh Mela that is held after every 12 years. Sangam, the confluence of the rivers Ganga, Yamuna and the Saraswati, hosts the annual Magh Mela. Every twelfth year the Magh Mela becomes the Kumbh Mela, when millions of pilgrims converge to commemorate the remarkable event. It starts every year from Makar Sankranti in January and ends at Maha Shivratri in February.
The Treasured Past
Kumbh Mela's history originates from the beginning of the creation of this universe. The gods were advised by Lord Vishnu, to churn the ocean for amrit (nectar), intake of which would make them immortal. Gods thus, sought the help of demons to churn the ocean. During the process of things, among other things, pot of amrit also appeared.
A fight started to take the possession of the coveted jar of amrit. During this fight, some drops amrit fell at four places: Allahabad, Haridwar, Ujjain and Nasik. These places assumed great religious significance as important Kumbh sites.
The Holy Bath
It is said that taking a bath at the holy Sangam is said to purge the pilgrims of all their sins. During the auspicious period when the Magh Mela is held, a temporary township comes up on the banks of the Ganga river to shelter millions of pilgrims. Devotees live in these temporary shelters for the whole duration of the mela leading a sacred life.